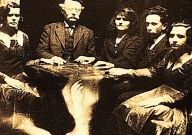 Image credit: William Hope
Tweance, a paranormal publicity stunt in time for Halloween, is an online attempt to contact deceased celebrities such as Michael Jackson and Patrick Swayze through the world's first Twitter seance.
"

Tweance, the online attempt to contact Michael Jackson beyond the grave, is being billed as the world's first Twitter séance. The move is a paranormal publicity stunt by a fancy dress shop in central London ahead of Hallowe'en.

"
View:
Full Article
|
Source:
Telegraph