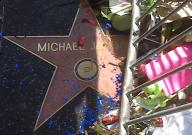 Image credit: Wikipedia
In a Halloween publicity stunt the world's first ever online seance conducted via Twitter proved popular and allegedly succeeded in contacting Michael Jackson, River Phoenix and Kurt Cobain with the help of psychic Jayne Wallace.
"

Twitter users have attempted to speak to departed pop stars in the world's first seance on the social networking site. The move was a paranormal publicity stunt by a fancy dress shop in London ahead of Hallowe'en.

"
View:
Full Article
|
Source:
Sky News