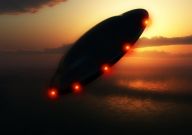 Image credit: stockxpert
A report recounting a UFO incident in China including radar images and recordings of communications between an airline pilot and an airport radio tower has been released. The pilot described the object as a "glowing fireball".
"

A detailed UFO report of an incident involving a commercial pilot that includes radar images and recordings of the conversation between the pilot and the airport tower has just been made public in China. The report was released at a scientific forum held in Shanghai.

"
View:
Full Article
|
Source:
All News Web