Anacondas - and other overly cuddly snakes
(This isn't cryptozoology, just zoology, but I believe much of some peoples belief on this matter make it fall under myth and legends. I hope someone might find it interesting.
I might add that I'm not a cryptozoologist or a zoologist, just a guy who took some interest in this)
There are things in life that one can, and should, be afraid of.
Some can seem more reasonable to fear than other.
When the Mrs flies up on the kitchenchair and screams `bloody murder´ at the same time shes waving the kitchenbroom after a poor little scared mouse on the
floor the correlation between cause and effect seems a little unbalanced.
But something that would get me up on the "kitchen chair" is snakes, and I don't mean some little gardenhose-thin little grass snake, but those big ass large
snakes.
Even smaller poisonous, for whom I have great respect, wouldn't produce the sheer terror that I would get facing a Anaconda.
Even though a Black Mamba most likely would kill me quicker with its poison, its the big "squeeze-the-****-outta-you" snakes that makes my skin crawl.
The same goes for all the large boa constrictor and python snakes, but the Anaconda is the thickest and largest one of them all.
How big do they get??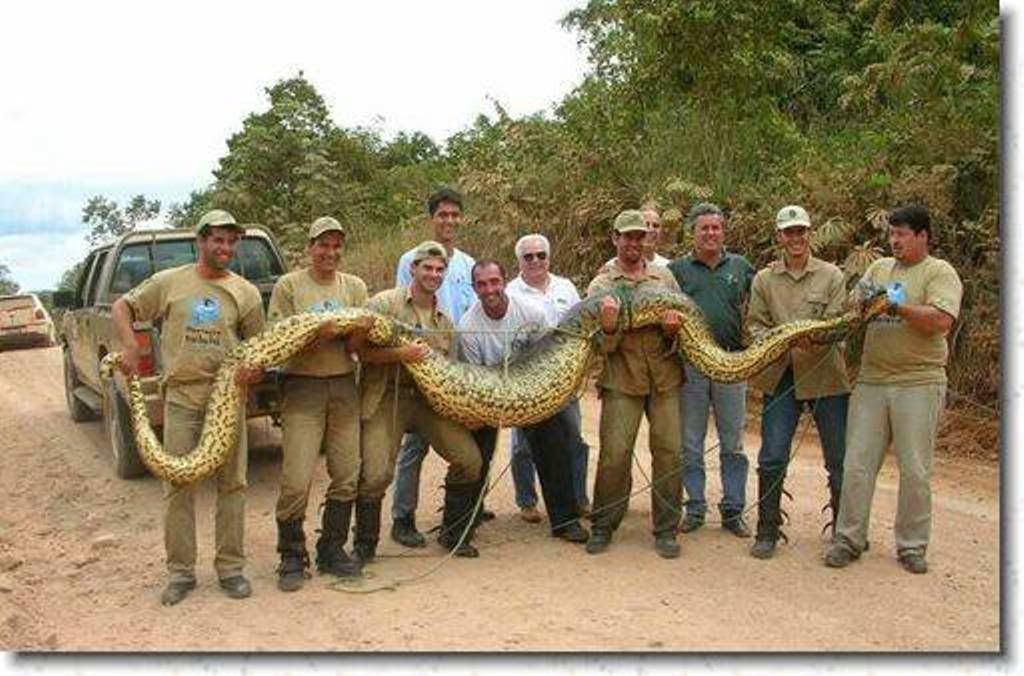 They can be as long as 10-11 meter (33 - 36 feet), but there is no shortage of rumors and myths about much longer/larger snake sightings.
15 Meter (49-50 feet) is some of the claims, but none of those have ever been confirmed by catching one or having a picture of them with something in the
background that could be used as a ruler of some sort.
But those caught and weighed/measured is around 10 meter (33 feet) and weighing 250 kilo (550 pound) and that is big-ass enough if you ask me.
33-36 Feet, 551 pounds and 1 feet in diameter is just numbers until you really measure out 35 feet (10-11 meter)in your backyard and then imagine a ventilationpipe of
muscles which is 1 feet (30 cm) in diameter (unfed, mind you), 35 feet long, and weigh as much as 3 full grown men and is explosively fast in short ranged attacks.
How hard can they cuddle??
When they have put some pressure-sensitive vests on some animal in captivity and let them in to an Anaconda and let the snake catch the prey and begin its
detah-dance with it, they were able to measure the exact pressure the prey is put up with.
The pressure is around 90Psi (pounds per square inch), which equates to around 4000 Kilo (8818 pounds).
Its like having a schoolbus pressing on your chest, imagine that.
Most of you have had their bloodpressure taken by a doctor with a bloodpressure-cuff.
You know the feeling when it squeezes you from all around on that part of your upper arm
Imagine a bloodpressure cuff that is as large as your body and it covers you, then having a squeeze that is about 10 000 times harder than you ever felt, on every inch of you
In the case when they measured this, the preys was larger birds of some sort and the struggle was relatively short, but the snake remained its squeezing pressure for up to 10 - 15 minutes in some cases, even though the bird was dead since long before.
To retain such pressure for such a long time speaks volume of its incredible musculature.
In cases where they catch larger preys, like a Jaguar, who put up more of a struggle than a bird, it is believed the pressure it has to put up with is far stronger than 90Psi (4000 Kilo (8818 pounds)).
A videoclip of the test with the bird from the documentary "Super Snakes"
: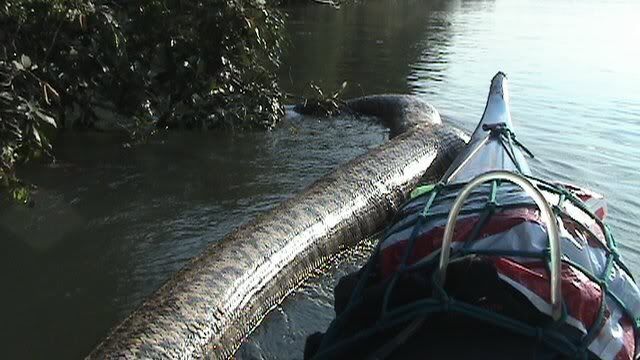 Just cuddle, no kisses
Cases where people is said to fall victim of Anacondas, and/or other Boa Constrictors and Pythons, but not been eaten is far larger in number.
One case:
" In 1993 in Colorado, a 15-year-old boy weighing 95 pounds was attacked by the family's python. The snake was only of medium size being 11 feet long and weighing 53 pounds, yet was able to kill the boy, though it made no attempt to eat him.
Cartoonist Gary Larson, of The Far Side, also had a close call with a Burmese python he had raised from a baby. According to Larson he realized he was "living with a gigantic predator with a very small brain" one day when it tried to do him in. "
Anacondas have a reputation for bad temperament. That plus the massive size of the green species mean that anacondas are comparatively less popular as pets than other boas, but they are fairly commonly available in the exotic pet trade."
Another case:
"The body of Erik Attmarsson was found yesterday at his property in Tanunda in the Barossa Valley.
Police said marks on the face of the 28-year-old could be consistent with being crushed to death by a snake.
Officers were searching yesterday for Mr Attmarsson's pet Queensland native scrub python, which had disappeared from its secure enclosure. The snakes grow to an average 5m, but have been recorded as long as 8.5m. An autopsy was to be conducted in Adelaide today."
The list can be made much longer, but you kinda get the picture.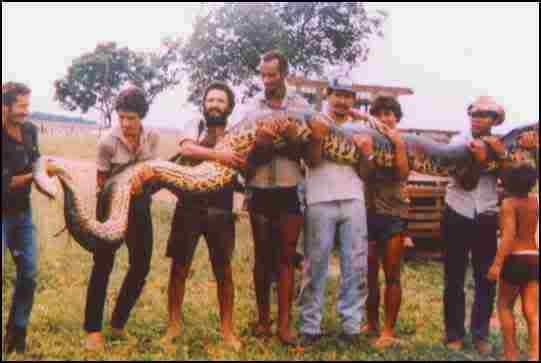 Avoid the necking and petting??
If one would find himself in a cuddle party with a, lets say a Python, how would one get out of it?
Its not like you can say: "Hey there, dinner and a movie first, then we can cuddle" and get away with it.
If one is alone you are pretty much S.O.L (thats **** Out of Luck for you none abbreviation-friendly people
).
But if you get help by someone your chances increase.
What I have heard, I dont know if it works, is that one flush really cold or really hot water on the snake.
It would then let you out of its "vise".
If this is due to the snake being a coldblooded animal and that either cold or hot water would make its muscles be retracted, or it would be a reflex, I don't know.
Some rumors says that pouring alcohol or hot water in its mouth would make the let go of you, ..at least the bite, maybe not the constricting.
Maybe someone else here knows.
If this doesn't help, one could go medieval on his ass.
Knifes and pliers or whatever you might have handy for your friend.
The risk is that if the snake gets stabbed or hurt he would constrict even harder and speed up the demise of your friend.
The chances are also, that if its a larger snake, he could "invite" you too to the cuddle party, and then you both are S.O.L and up **** creek.
There might be other ways to get out of this and maybe someone here knows about one.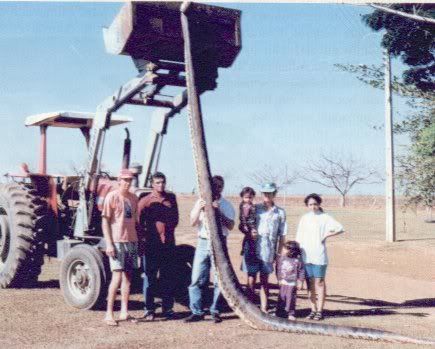 Here is a Happy-Ending story that to some extent correlate with what I suggested above, and also what could happen.
News report
:
http://www.reuters.c...916984220070209
"SAO PAULO (Reuters)
- A 66-year-old Brazilian man wrestled with a 15-foot (5-meter) anaconda for nearly half an hour to free his grandson from the snake's
crushing death grip, a newspaper reported Friday.
Matheus Pereira de Araujo, 8, would likely be dead inside the belly of the 80 pound (35 kg) anaconda if his grandfather had not heard his screams for help, zoologists said.
Anacondas, the biggest snakes in the world, are non-venomous and kill prey by asphyxiation.
Araujo was playing with friends near a creek on his grandfather's farm in Cosmorama, 310 miles west of Sao Paulo, Wednesday when the snake attacked him.
"It was very fast. I didn't have time to do anything," the Folha de S. Paulo newspaper quoted Araujo as saying by. "My grandfather is a hero -- I was so
afraid of dying."
Joaquim Pereira was driving home when he heard his grandson screaming. He jumped into the ravine and grappled with the snake, which started coiling around
him as well.
Pereira attacked it with stones and a machete and killed it.
"It was the most terrible scene that I've seen in my life," Pereira said. "It was totally coiled around him while he was screaming that he was dying."
This is what gluttony gives you

Another interesting case is where a smaller (4 meter) Python was found with its belly exploded.
Inside it they found this Alligator.
They suspect that even though the snake have eaten the Alligator, it wasnt dead, and sure as hell not about to kick the bucket. and it used its claws to
"dig" itself out of the snake belly.
Regardless its a bizarre event.
News report:
"An unusual clash between a 6-foot (1.8m) alligator and a 13-foot (3.9m) python has left two of the deadliest predators dead in Florida's swamps.
The Burmese python tried to swallow its fearsome rival whole but then exploded.
The remains of the two giant reptiles were found by astonished rangers in the Everglades National Park.
"They were probably evenly matched in size. If the python got a good grip on the alligator before the alligator got a good grip on him, he could win,"
Professor Mazzotti said the alligator may have clawed at the python's stomach, leading it to burst. "

Here is also a "dinner gone wrong"-scenario.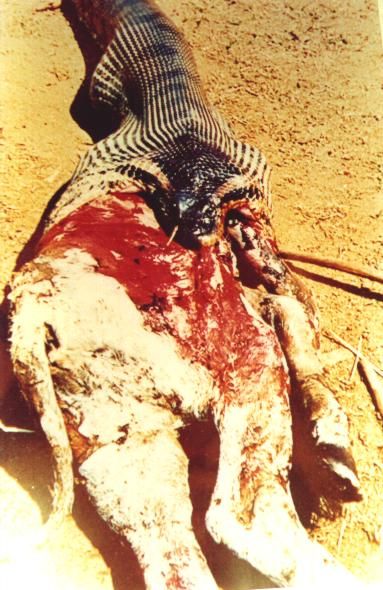 Some cases of cannibalism amongst anacondas have been reported.
I'm not sure about its validity though, but here is a photograph.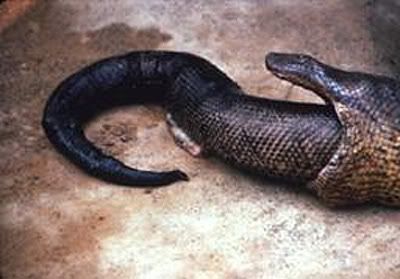 No fencesitting here
This Python was found dead and it had been killed by this electrical-fence and made some eery death-pose.
If you look into that "garage-door" you could clearly see its fangs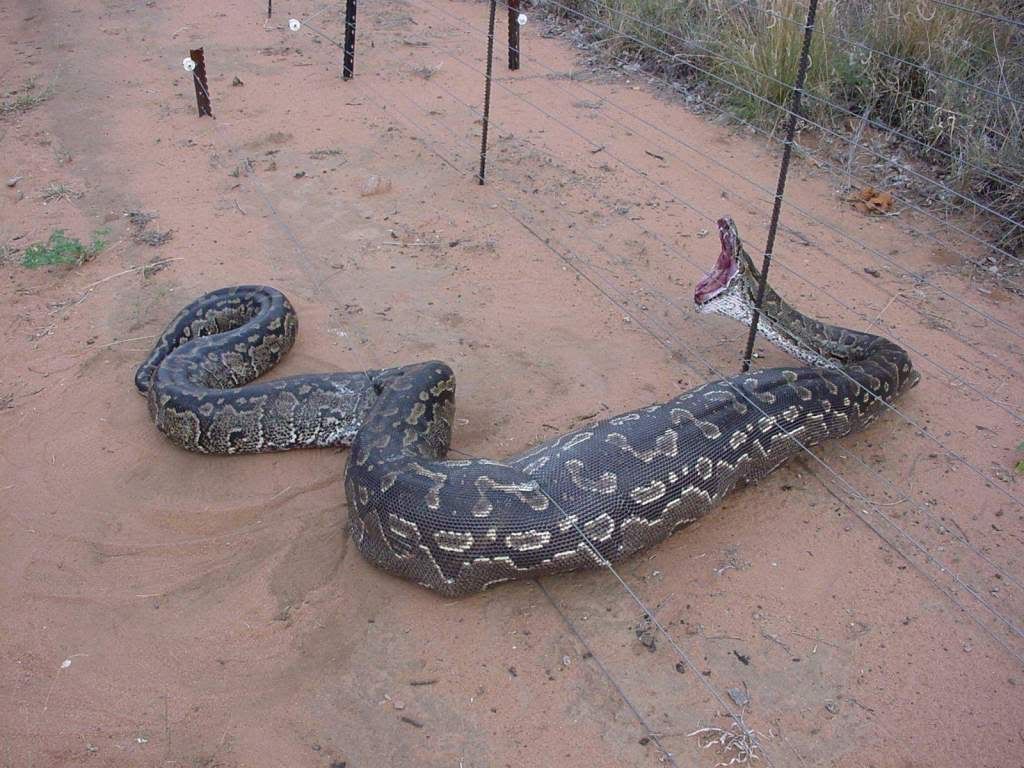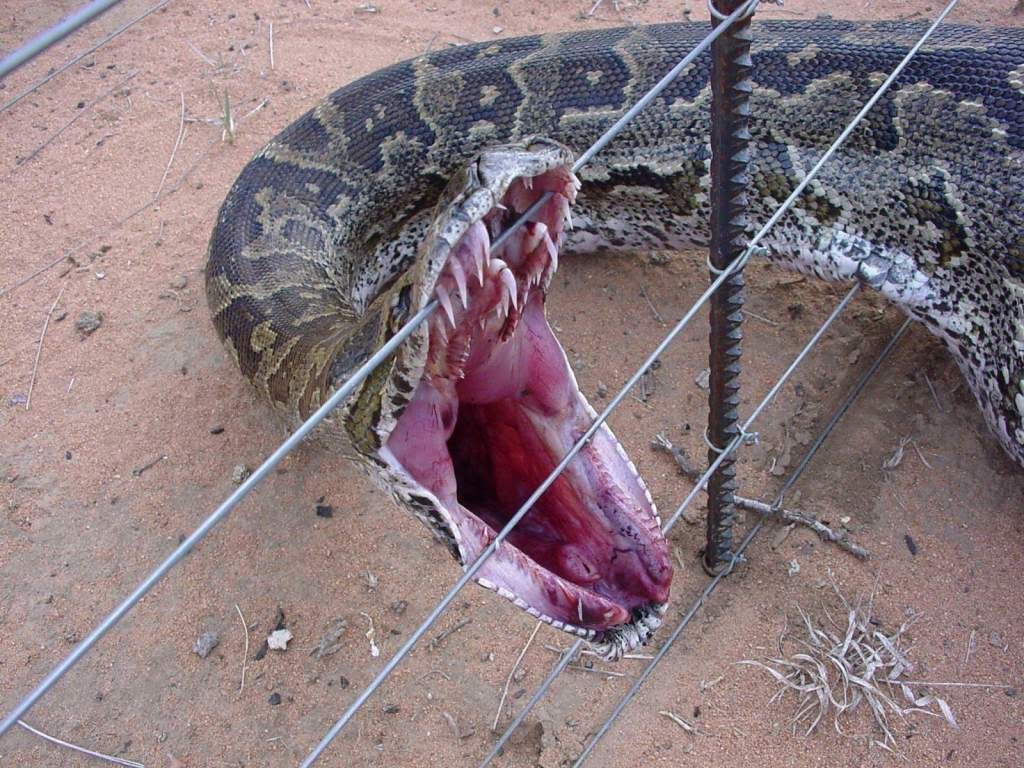 Also, watch this video.
It is fake, but only the last 2 seconds of it, anyway its a great shot.
Videolink>>>>
Edited by EllJay, 04 January 2010 - 07:39 PM.