It's a stormy day here in Chicago and I was not in the mood to try to negotiate a major snow storm and hundreds of idiot drivers, so I've stayed home for the day. This gives me the opportunity to submit another critique of material in Zacheria Sitchin's
The Stairway to Heaven
(April 2007 edition). I have previously initiated two threads, found
here
and
here,
about arguments Sitchin makes in Chapter 13, entitled "Forging the Pharaoh's Name." I am returning to this chapter and to the most important argument Sitchin makes, after which the chapter is called.
In March 1837 an enthusiast of the nascent field of Egyptology, Colonel Richard Howard Vyse, discovered several relieving chambers above the King's Chamber of the Great Pyramid. The lowest relieving chamber had been discovered in 1765 by Nathaniel Davison, and was thereafter known as Davison's Chamber, so Vyse logically suspected that more chambers might lie above this one. By inserting a reed through a crack in a joint of the ceiling of Davison's Chamber, Vyse was able to detect a void and knew he was onto something. On March 30, using gunpowder Vyse blasted a hole through the ceiling of Davison's Chamber, and entered a new chamber that had not been seen in 4,500 years. Vyse's exploits revealed that there were
four more chambers
above the one Davison had discovered over 70 years before.
The most astounding discovery, however, was the plethora of mason's marks and graffiti found in these higher chambers. The painted graffiti include the three names by which King Khufu was known. That Vyse was the first person to have entered these chambers since the building of the pyramid in 2,500 BCE shows that the graffiti was original to the builders, and thus firmly ties the Great Pyramid to the reign of Khufu.
Sitchin writes some rather enjoyable anecdotal and background information about Colonel Vyse, more so than I have read in most legitimate historical studies, but he maintains that Vyse and an accomplice, J.R. Hill, painted all of the graffiti themselves and are guilty of forging the pharaoh's name. Sitchin believes this is so because numerous exciting finds were being made at Giza at the same time, and they--Vyse and Hill--wanted in on the excitement and desired to be famous (Sitchin 2007: 361). It's one thing to besmirch the names of two men who are long dead and cannot defend themselves, but quite another to approach the accusation with truly faulty reasoning and exceedingly poor evidence to make such a claim. Herein lies the thrust of my own argument in this post: to demonstrate why the evidence Sitchin presents in defense of his position is misleading and faulty from the start.
I'll dispense with commenting on the conjectures Sitchin has dreamed up about Vyse's and Hill's methods and movements in crafting said forgery because in the end this is all pure speculation on Sitchin's part and there can be no evidence to support it. Instead, I'll comment on specifics about the graffiti and the linguistics involved, because the arguments one can make in favor of orthodox research will alone blow Sitchin's position out of the water.
In this segment of the chapter Sitchin continues to make the typical fringe error of consistently citing and, probably, misusing scholarly material from the earliest days of Egyptology. No current research is used because current research would reveal Sitchin's errors. A good example is the form of writing the graffiti in the relieving chambers takes, which could be called cursive hieroglyphs, linear hieroglyphs, or even hieratic.
Before continuing I have to stress very strongly that in 1837, when Vyse discovered the graffiti, the knowledge of hieroglyphs and other forms of ancient Egyptian writing was still in its infancy. After all, Jean-François Champollion had made the first successful translation only fifteen years before, in 1822. Scholars in Vyse's time were only beginning to unwrap the various ancient scripts and had a very incomplete understanding of them. For example, Sitchin makes a big deal over the cursive or linear nature of the graffiti, and cites one historian in the British Museum who claimed this form of writing would not exist in Egypt for centuries to come (ibid, 354). We know a lot more in this day and age. In fact, it is established fact that cursive or hieratic scripts are as old as hieroglyphs and first made their appearance in late prehistory (Parkinson 1999: 88; Allen 2001: 6; Wilkinson 1999: 40), dating to about 3,150 BCE. As with other forms of writing in ancient Egypt, hieratic can be broken into stages of development as pharaonic history progressed:
Old Hieratic: Late prehistory to 2000 BCE
Early Middle Hieratic: 2025-1700 BCE
Late Middle Hieratic (literary): Late Middle Kingdom (c. 1640 BCE)
Late Middle Hieratic (non-literary): Late Middle Kingdom (c. 1640 BCE)
Dynasty 18 Hieratic: 1550-1069 BCE
Ramesside Hieratic: 1298-1187 BCE
It goes on from there (Ramesside, in simple terms, equates to about Dynasty 19), but this carries the point. Hieratic script existed alongside hieroglyphs for much of pharaonic history. A case may be made that the graffiti in the relieving chambers is simply more cursive hieroglyphic than hieratic, which would only sink Sitchin's position further: cursive hieroglyphic script is, after all, merely hieroglyphs written by hand.
Sitchin further mentions the confusion early scholars had over some of the glyphs associated with the royal name in the graffiti. It would seem Sitchin is trying to use this fact as proof that Vyse and Hill were simply slapping some glyphs together based on a couple of books by John Gardiner Wilkinson they had at their disposal. This does not seem a reasonable position to suggest. Although glyphs were not yet well understood at the time, certainly Vyse and Hill would've understood that random hieroglyphs would be shown to be nonsensical and fraudulent sooner rather than later. Examples of the royal name and attendant glyphs are below (adapted from Ann Macy Roth's book
Egyptian Phyles in the Old Kingdom
):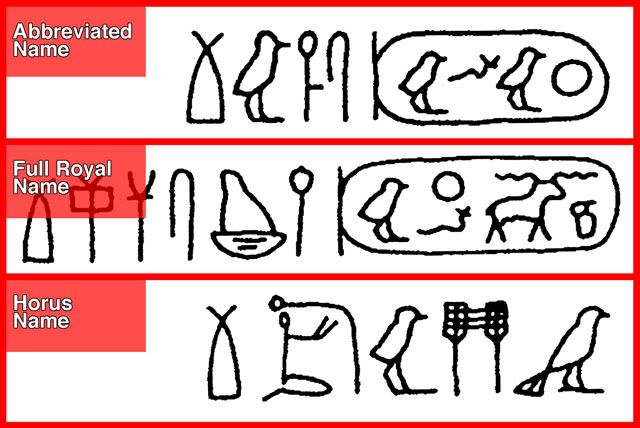 The top set is the name by which most of us know this king, the abbreviation Khufu. The center set is his full formal name, Khnum-Khuf. The bottom is his Horus name, Medjedu. The glyphs following the versions of the name are what puzzled the early scholars, and it's understandable. What we know now is that they are the individual names of phyles and work gangs, and these glyphs in the relieving chambers "...name three gangs, each based on a different form of the king's name" (Roth 1991: 125). The way the names of phyles and gangs are arranged on the walls can even provide hints as to how the great blocks of the relieving chambers were assembled and put in place, and which gangs were responsible for assembling different parts of the chambers (ibid, 127).
Sitchin makes note of the unusual positioning of some
of the graffiti;
that is, some of it is upside-down and some of it vertical. He uses this to argue that Vyse and Hill, unable to stand erect in the chambers, were forced to squat and assume other uncomfortable positions as they "forged" the graffiti. There is a much more logical explanation for this, but more on that later.
Refer again to the chart with the three versions of the name, above. Early scholars were confused by the appearance of a Khufu as well as a Khnum-Khuf and, as Sitchin states, were forced to wonder if
two
kings were being referred to (Stichin 2007: 356-359). Even Flinders Petrie was somewhat confused by this and attempted unsuccessfully to reconcile it in his own writings (Petrie 1883; 2007 ed: 152). Some early scholars even posited a co-regency between Khufu and a son named Khnum-Khuf; co-regencies were known to have existed, but as research would show in the decades to come, we have no definitive evidence for a co-regency before Dynasty 12, many centuries after Khufu's time.
The simple answer is, as we have known for a great many years now, Khufu was merely a short version of the formal name Khnum-Khuf (meaning "Khnum protects him"). Both names refer to the same king, of course. I couldn't help but notice in this chapter of Sitchin's book that the Horus name, Medjedu, is not even mentioned. It appears in the relieving chambers, too, as I've diagramed above. I am not sure why Sitchin goes to such lengths in muddying the waters with the old confusion over the name-versions because such detail does nothing to buttress his ultimate claim that the two large Giza pyramids were actually built by "Anunnaki aliens" long before the Egyptians existed.
This is an absurd notion, of course, but what Sitchin really desires by presenting the details about the names Khufu and Khnum-Khuf is what he regards as a clumsy error in the forging of the names. This brings me to what might be regarded as Sitchin's single weakest and most glaring error in the claim of forgery. This is the representation of the symbol in the graffiti that produces the "kh" sound in the name Khufu or Khuf. Sitchin calls it a sieve; most Egyptologists believe it to symbolize a placenta, but the truth is no one is sure. All we know for sure is that it represents the guttural "kh" sound. Its classical depiction is as a circle within which are hash marks, such as in the final, circle glyph in
this word,
"ankh."
In the graffiti, however, the circle glyph contains no hash marks--it is simply an empty circle, as seen in my chart above. Sitchin is correct that this makes it more closely resemble the glyph of the sun disk as in
this spelling
for the name of the god Re, but for the sake of his argument Sitchin maintains that in forging the graffiti Vyse and Hill bungled the job and used the sun-disk symbol instead of the sieve symbol, thereby spelling the name Reufu instead of Khufu. He further maintains that these two symbols were always perfectly employed by the Egyptians (Sitchin 2007: 368) and that no scribe would have ever made such an "error."
What this ultimately reveals is Sitchin's lack of training in and understanding of Egyptian hieroglyphs. He is completely incorrect. Recall that the graffiti is not an official, monumental inscription commissioned by the state but simply symbols hand-drawn by evidently mostly literate foremen of work gangs. As one leading linguist in Egyptology states: "In these handwritten texts it is very rare to find hieroglyphs made with the same detail as those in hieroglyphic inscriptions" (Allen 2001: 6). In texts written on papyrus or ostraca, painted onto wood or stone, and even carved into stone, it is in fact extremely common to show the "kh" glyph as an empty circle, as a circle with a blob somewhere within it, or as a circle containing any assortment of hash marks. Observe the examples below; the arrows point to examples of the "kh" glyph:
These are all examples from artifacts with which I am familiar at the Field Museum in Chicago. The examples I've selected range from Dynasty 4 to Dynasty 19-20, representing around 1,000 years of inscriptions. The Dynasty 4 example is from a section of a stone false door for a nobleman, and the "kh" glyph is classically rendered with numerous hash marks. The Dynasty 5 example is from a large stone false door of a prince whose tomb is in the Unis pyramid complex, and in both examples indicated the "kh" glyph is an empty circle filled in with paint. The Dynasty 12 examples is from a small stone stela and the "kh" glyph is an empty circle. Finally, the Dynasty 19-20 example is from a papyrus Book of the Dead of a priest, and in both examples indicated the "kh" circle, forming part of his name, includes the circle with three vertical hash marks.
I should hope this alone is enough to render this portion of Sitchin's argument defunct.
Earlier I mentioned Sitchin's point that some of the graffiti is upside-down and some vertically written, his point being that Vyse and Hill needed to squat or assume other odd positions in order to write the graffiti in the extremely cramped spaces. In fact, the positioning of other examples of graffiti in these chambers proves why some of it appears this way, and further proves beyond a doubt that the graffiti was written by the ancient builders themselves. This brings me to the conclusion of my post, and to this end it brings me great pleasure to provide an example of capitulation by none other than Graham Hancock, one of the leaders of modern-day fringe arguments and who formerly had supported the "forgery" argument of Sitchin's. In the late 1990s Zahi Hawass permitted Hancock unrestricted access to the relieving chambers of the Great Pyramid, and in that time Hancock was able to see for himself why the graffiti could not have been forged. Hancock's full retraction can be found on
this page
(scroll down to his "Position Statement"), but the gist of it is:
Quote
Cracks in some of the joints reveal hieroglyphs set far back into the masonry. No 'forger' could possibly have reached in there after the blocks had been set in place - blocks, I should add, that weigh tens of tons each and that are immovably interlinked with one another. The only reasonable conclusion is the one which orthodox Egyptologists have already long held - namely that the hieroglyphs are genuine Old Kingdom graffiti and that they were daubed on the blocks before construction began.
In other words, at least much of the graffiti had been written in 2,500 BCE on these great blocks
before
they were assembled in the relieving chambers. Other mason's marks show where and how the blocks were to be put in place, and the work crews "signed" the blocks that they themselves were to assemble above the King's Chamber. Graham Hancock has not surrendered all of his fringe beliefs, unfortunately, but I give him proper credit for admitting that Sitchin's forgery theory is demonstrably false.
I know this grew to be a beefy post. I hope at least some of you choose to read and digest it, and I hope you enjoy it. It was my wish to provide a firm stance on why Sitchin's claim cannot be taken seriously because I am constantly amazed that fringe adherents somehow still try to use the graffiti in the way Sitchin invented, even though he has been proven false. There is no wiggle room. This may be the last critique I write of
The Stairway to Heaven
because I've seen that my "Sitchin's Folly" threads have not generated much feedback, probably due to how long they are, but at least I can leave the endeavor having disproved this position of Zecharia Sitchin's.
I welcome comments and debate.