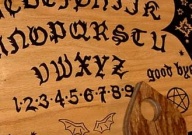 Image credit: (PD)
Ken Korczak: I recently conducted an amazing Ouija board session with an unusual partner -- a wizard from an alternate dimension -- but there was an unexpected outcome from the session that left me bewildered. Here is how all this came about:
Over the past two decades I have experimented extensively with Hemi-Sync technology developed by consciousness researchers at the Monroe Institute in Faber, Virginia. Hemi-Sync are CDs of recorded sound patterns which contain binaural beats, which supposedly can synchronize your brain wave patterns when you listen to them, thus dramatically enhancing your mental abilities, especially to function in altered states of consciousness.
Hemi-Sync has been shown in independent, replicated and double-blind studies to be an effective partial substitute for the drug fentanyl during surgery.
A few nights ago I was attempting to program an extremely vivid lucid dream, and so I went to bed listening to a Hemi-Sync CD. I had the CD player set on repeat because I wanted to keep the binaural beats going throughout my sleep process.
After about an hour, I still was not asleep, but suddenly felt myself grow numb, and then I began to feel surges of electrical shivers pulsate throughout my body. Still very much awake, I began to experience myself floating away from my body in some sort of second body; I suppose some would call it an astral body.
View:
Full Article