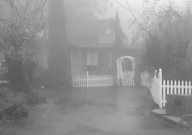 Image credit: Nancy Bradley
Nancy Bradley: My office in northern California has been dubbed the "Enchanted Cottage." Although it is in a small town about 30 miles outside of Sacramento, I am reluctant to move my Friday Night Psychic Classes to a larger location closer to a big city because of the extreme psychic energy that is represented here. Those who come to the classes agree that it is worth the drive not only to hear the lectures, but to enjoy the spirits that reside here with me.
The cottage area, by all accounts (and confirmed by former Historian of the area Dennis Witcher), was the site of the miner's mortuary in the 1800s. It was also the location of a doctor's office and the toll house where you would pay to cross the bridge to the next town. By coincidence, the doctor was also the mortician, which in most cases would make it spooky to come in to be treated for a cold and see a body propped up in the window. The doctor's hopes were that someone would claim the remains. The thought of going in for a cold and going out in a box surely must have crossed the mind of many an old miner who took the risk. For all the history and wonderment of it all, the old doctor's wife loved the Native Americans of the area, and she saw to it that they were properly cared for when they became ill or injured. They rewarded her with many gifts of baskets and other things they had handmade for her kindness and generosity. Many years after her death, they were almost all turned over to the historic museum. When we built onto the Enchanted Cottage to add the classroom, we found a round rock among the more accustomed jagged ones. Upon turning it over, it turned out to be a Miwok bowl, obviously one that was overlooked those many years ago. We enjoy having it with us today when we do our summer and winter ceremony honoring those who have passed.
View:
Full Article