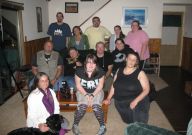 Image credit: Paul Dale Roberts
Paul Dale Roberts: This may be the mother of all investigations, as I write this in real time. Here is the situation. The occupants that lived here have moved out, leaving some of their possessions behind. The negative activity in this apartment (apartment 86) was too much for them to handle. Mia (occupant) says that an entity tried to snatch her baby from her arms. The occupants started having mood swings. The atmosphere in the apartment became hostile. They felt like their lives were in danger and it was time to get out for their own safety. They left the key under the mat and told me that my investigators have free reign of their apartment. They are merely curious on what kind of evidence we will find tonight.
I had a briefing with my investigators and placed Mia on the speaker phone. Mia tells us that the family that lived in this apartment previously before them faced a hostage situation, in which the male occupant placed his family under his gun. The male occupant killed his family (possibly 3 family members) and then placed the gun to his head and shot himself. I am still trying to verify this incident. I did discover that there was a stabbing death outside of the apartment complex. Mia once saw a black fog move down the hallway and her boyfriend felt something sitting on his chest. They would get many hot spots in the apartment and there was a time when the apartment became unbearably hot. Note: Black mist, black fog and black smoke are an indication of demonic activity. Hot spots are also an indication of demonic activity vs. a cold spot that is usually ghost activity.
View:
Full Article