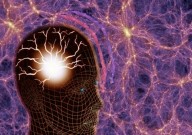 Image credit: Jay Alfred
Jay Alfred: In the 1930s and onwards, neurosurgeon Wilder Penfield developed a surgical procedure for epileptics in which he operated on a patient's exposed brain while the patient remained fully conscious. When an electrode was placed on the patient's temporal lobe, the patient had a complete flashback to an episode from earlier in his life. (Applying the electrode to other parts of the brain did not produce this.) The scenes always moved forward, and only forward. If music was involved, this followed the precise original tempo; the full score of which the patients would be able to hum with total accuracy — much as an autistic savant would be able to reproduce music with almost complete accuracy — like a recording on a video or compact disc.
Penfield, in his book The Mystery of the Mind recounted, "They were electrical activations of the sequential record of consciousness, a record that had been laid down during the patient's earlier experience. The patient 're-lived' all that he had been aware of in that earlier period of time as in a moving-picture 'flashback'." He said, "Each time I re-stimulated, she heard the melody again. It began at the same place and went on from chorus to verse." Penfield concluded that the brain stores everything its owner has ever experienced in its original form. The flash-backs seemed to play themselves out in their proper order like scenes in a movie. "Since the electrode may activate a random sample of this strip from the distant past," he reasoned, "and since the most unimportant and completely forgotten periods of time may appear in this sampling, it seems reasonable to suppose that the record is complete and that it does include all periods of each individual's waking conscious life".
View:
Full Article