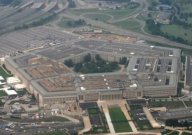 Image credit: dbking @ Flickr
The amount of money assigned by the United States to classified "black projects" has now exceeded over $56 billion. New advances in military technology such as the stealth bomber were in development as black projects for years before finally being revealed to the public, in this modern age what technical marvels are currently being worked on behind closed doors that we still know nothing about ?
"

The Defense Department just released its king-sized, $708 billion budget for the next fiscal year. Much of the proposed spending is fairly detailed — noting exactly how many helicopters the Pentagon plans to buy and how many troops it plans on playing.

"
View:
Full Article
|
Source:
Wired