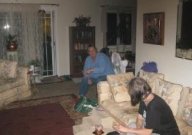 Image credit: Paul Dale Roberts
Paul Dale Roberts: Betty Frazer and Cassandra Bushore moved into a home in Sacramento and discovered that the home is haunted by four entities. The four entities are a mother and daughter, a small dog and a dark presence.
They have lived in this home for three months and in the first week, they felt a haunting presence. Betty felt there was something wrong with the home, before they even moved in. Some of the problems that they have in this home are:
1. Lights will dim and go completely off on their own.
2. The bedroom door has shut closed by itself.
3. Messages have been erased off the telephone answering machine.
4. The occupants have been touched.
5. Woman entity has been seen; she is thin and has gray hair.
6. Woman entity has a daughter and the daughter seems sad and depressed.
View:
Full Article