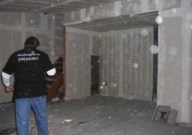 Image credit: Nancy Bradley
Nancy Bradley: An interesting investigation was held by GOLD RUSH GHOSTS INTERNATIONAL PARANORMAL INVESTIGATIONS for the television show INVESTIGATING THE UNKNOWN on December 27th, 2009. We had been invited by the staff of the McCormack Williamson Winery to come and see what was going on, as strange things seemed to be happening in the building that they could not pin-point. As the Celebrities Psychic, I had been on a recent television investigation at this winery this last Halloween with KMAX GOOD DAY SACRAMENTO Channel 31. At that time I found the building to be rather interesting and exploratory in the true ghost/spirit sense. And so we jumped at the chance to take a second look.
The winery was originally built in 1868 as a granary, but in the early 1900ís it was converted into a winery. It was as recent as 2001 that the owners began producing Dancing Coyote wines, good, tasty stuff for those of you who like a great glass of wine on occasion. Located in the little town of Acampo, California, about 20 miles out of Sacramento, it is well worth the trip to enjoy the tasting room, even if you donít encounter a ghost.
View:
Full Article