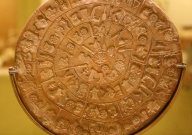 Image credit: Wikipedia
Geoff Ward: International controversy continues over the refusal to date Crete's famous - some say infamous - Phaistos Disk to prove once and for all whether it is a priceless treasure of the ancient world dating to at least 1,700BC, or a clever hoax from the early years of the last century.
A recent plea to solve the mystery, by carrying out a special scientific test on the disk, was turned down in Greece on grounds that it is a national treasure and "untouchable".
Professor Ioannis Lyritzis, of the University of the Aegean, Rhodes, applied for a permit for a thermoluminescence test but the Greek Ministry of Culture's conservation directorate refused because the test would involve drilling into what they regard as a unique artefact.
View:
Full Article