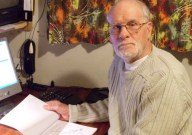 Image credit: Geoff Ward
Geoff Ward: Stone Age people invented a form of clock that enabled them to tell the time of day, the seasons and even latitude, an author claims in remarkable new research.
And development of the device led to the mysterious Silbury Hill in Wiltshire becoming the prototype for pyramids in Egypt and around the world and also the basis of the English system of measures, says Peter Watts, a retired electrical engineer from Somerset, England.
After 15 years of study, Peter has concluded that Stone Age people were maths wizards thousands of years before the Ancient Greeks who are thought to have been the pioneers in geometry and trigonometry.
View:
Full Article