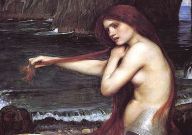 Image credit: J.W.Waterhouse
Paul Dale Roberts: Past history of mermaid sightings go as far back as 558 AD Ireland. A mermaid was drawn ashore by a fisherman's net. The mermaid was baptized by the townsfolk and soon afterward she died. She was later honored as a holy virgin and miracles were recorded at her shrine. This occurred at Teo-da-Beoc. Sightings of mermaids have been frequent from the Renaissance period to modern times.
October 29, 1811, John McIsaac saw a mermaid at Campbeltown, Scotland. With his sworn testimony, he claimed the mermaid had long flowing red hair, white skin and dove back into the water. Henry Hudson on June 15, 1608 claimed he saw a mermaid with flowing black hair, skin was white and it swam on the ship's bow side in the North Atlantic. Hudson and one other witness saw the mermaid. It is said that when mermaids sing, they are predicting an upcoming storm. It is also rumored that mermaids can bring on storms. Stories tell if you try and harm a mermaid, the mermaid will bring on a fatal storm of great proportions.
View:
Full Article