Abramelin, on 16 March 2010 - 02:24 PM, said:
Llychlyn:
Fabulous or infernal region beneath the waves in such early Welsh texts as Breuddwyd Rhonabwy [The Dream of Rhonabwy]. Like the Irish cognate Lochlainn [..or 'Lochlann'..], Llychlyn comes also to mean Scandinavia, its definition in contemporary Modern Welsh.

http://www.answers.com/topic/llychlyn
http://www.answers.c...pic/lochlainn-1
So, initially Lochlann/Llychlyn was the name for a region beneath the waves, but later it became the name for Scandinavia.
Maybe because the Vikings came from the same direction (let's say, the north-east as seen from Ireland) as where once the original Lochlann/Llychlyn was located?
Now, if the Doggerlanders would have wanted to sail to ancient Ireland, then they would have to go north, pass by Scotland, and then go south again to reach Ireland, and so apparently coming from the north or north-east in the eyes of the people inhabiting ancient Ireland.
.
Well, someone else appears to have the same idea, and it's Ulf Erlingsson, the geographer/geologist who had a theory about Ireland being Atlantis (which I don't agree with at all). In his theory, however, he tries to explain that Dogger Island (the present Doggers Bank) was the place of origin for several ancient and mythical arrivals in ancient Ireland, and that it's final sinking into the waves was responsible for the creation of the Atlantis myth as described by Plato.
Here is his site :
http://atlantisinireland.com/
And here's the video about his theory :
LINK
I made a still of the video that shows the travel of the Tuatha De Danann from Dogger Island to Ireland: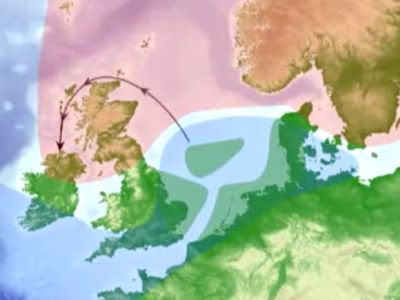 (the pink part is the area that is being uplifted as a result from the isostatic rebound)
.
Edited by Abramelin, 21 March 2010 - 02:05 PM.