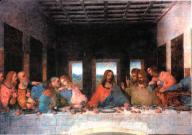 Image credit: Leonardo Da Vinci
Dan Green: In 2005 local newspaper The Lincolnshire Echo ran the story 'The Riddle of Jesus, the Last Supper and Lincoln's own Da Vinci Code' referring to the discovery of a dog on the platter at the scene of the Last Supper upon the Great East Window within Lincoln Cathedral. The notion of Lincoln Cathedral having its own Da Vinci Code appealed to me within an instant, I set about investigating it and the rest is now modern history. From the very onset, synchronicity played its part – the fellow who discovered the dog on the plate during repairs to the window had the word 'cup' in his surname, the Grail once held to be a golden cup or chalice, Tom Kupper, being leader of the cathedral glazing department. As I was making exciting progress in pursuing this chance find of a factual 'Cathedral Code', the most unbelievable announcement was made – in July 2006 Hollywood was going to come to film scenes for Dan Brown's fictional 'The Da Vinci code', within the cathedral!
Here was I seeking to authenticate a factual code in there when the film version of the best ever selling work of fiction was about to tread on my toes and share the same stone floor. I thought this visiting significant synchronicity would never be repeated, but during March 2010 lightning struck again.
View:
Full Article