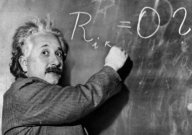 Image credit: Wikimedia Commons
New calculations based on equations devised by Albert Einstein support the idea that the LHC can form black holes. Some people expressed great concern over the idea that a black hole formed by the collider would swallow up the whole planet however in reality such black holes would be both extremely small and disappear extremely quickly.
"

One of the concerns that has been voiced about the Large Hadron Collider (LHC), is that it could result in the formation of black holes that could destroy the world. While most scientists dismiss claims that anything produced in the LHC would destroy the planet, there are some that think that black formation could be seen with LHC collisions of sufficiently high energy.

"
View:
Full Article
|
Source:
Physorg