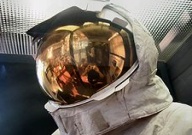 Image credit: Wikipedia
Skydiver Felix Baumgartner is going to attempt a record-breaking sky dive from an astonishing 120,000 feet. In order to cope with the conditions at that height a specialised equipment manufacturer are designing a space suit that he will wear during the dive to protect him against extreme temperatures and to keep him alive.
"

Austrian skydiver Felix Baumgartner wants to attempt a record-breaking free fall from 120,000 feet above the Earth. It's not the kind of jump a person can do with a conventional sky-diving suit and helmet. After all, Baumgartner will break the speed of sound during his fall. He will need life-support.

"
View:
Full Article
|
Source:
Discovery News