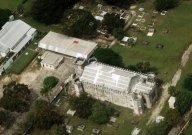 Image credit: Wikimedia Commons
Matt Forde: In 1808 the wealthy Chase family of Barbados acquired a vault in which to inter their dead relatives. Already some eighty years old, the vault was built semi-underground and hewn out of the compacted coral that makes up much of the islandís foundations. Despite its age, the crypt had only housed a single occupant; one Thomasina Goddard.
The head of the Chase family, Colonel Thomas Chase, decided not to disturb Goddard and she was not moved to another vault. Indeed, she was soon saved from her lonely prostration when the young Mary-Anne Maria Chase joined her in lead-lined eternity. Four years later the vault was re-opened to allow Mary-Anne's sister Dorcas' entry.
The unfortunate Chase family suffered another death when Thomas himself passed away barely a month after Dorcas. Only upon this latest reopening of the vault did the foundations of the legend begin to take root. It was found that Dorcas' coffin had moved from its original position so that it now rested against the far wall "standing on end, with its head downward" (some sources insist that Mary-Anneís coffin had already moved mysteriously by the time they opened the vault up for Dorcas). Blaming vandals or thieves, the funeral party replaced the coffin, slid the marble slab back over the entrance and left.
From then on every time the vault was opened to allow the submission of another of the Chase's relatives the vault's contents would be in disarray. This included Thomas Chase's heavy casket which, according to sources, took eight men to lift. Four times over the following years would the marble slab be heaved aside and the sun's light would illuminate the enigmatic danse macabre that had thrown the coffins into morbid disarray. Finally, the strange activities attracted attention from the island's inhabitants and officials who attended Thomasina Clark's internment in great numbers.
View:
Full Article