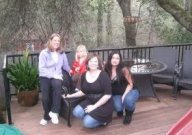 Image credit: Paul Dale Roberts
Paul Dale Roberts: Today I have an investigation in Placerville at a very quaint and beautiful home in Placerville. Riding up with me is HPI Paranormal Investigator/Sensitive Chantal Apodaca. Meeting us at the residence is HPI Paranormal Investigator/Psychic Jennifer Newell.
When we arrived at this home, the occupant Gretchen Mayerhofer greeted us with a smile. Shannon 'Ms. Macabre' McCabe sent us on this assignment. Shannon felt urgency towards this investigation, because there is a 3 year old child involved. Gretchen's daughter named Taylor is playful, intelligent and loves to tell her stories of various encounters. Chantal, Jennifer and I, after talking with Taylor immediately thought that Taylor is sensitive to paranormal activity. Taylor explains to us that she has seen an angel named Kay-Leen. She describes Kay-Leen as having wings, long blonde curly hair situated in a way that there is also a ponytail. Taylor feels Kay-Leen watches over her.
View:
Full Article