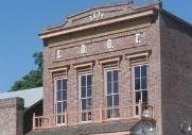 Image credit: Paul Dale Roberts
Paul Dale Roberts: A big thank you to Mia Lane-Gomez for allowing us to have a scouting mission at her establishment and Chantal Apodaca for discovering this investigation and bringing it to our attention. The date is February 20, 2010 and I have a scouting mission lined up for this evening. A scouting mission is basically when we open up a paranormal investigation to the public. A scouting mission is more of a relaxed atmosphere as most of the people are learning the techniques of ghost hunting. A real investigation is for our experienced and most seasoned investigators. On this night, we have opened up this investigation to the public, making this a scouting mission. At scouting missions, sometimes we are very successful in obtaining paranormal evidence and sometimes not.
Letís take a roll call on who showed up for this investigation. I must tell you, I was quite surprised, at least 75 people showed up for this scouting mission. I will list some of the people that have been identified for this article.
View:
Full Article