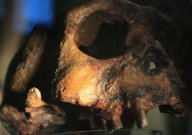 Image credit: Urville Djasim
Doc Edwards: A while back I gave a lecture in a large meeting room near the main campus of The University of Tennessee on "The Three Minds of Man" to an audience of about seventy weary students, who had just finished an intense week long ordeal of testing since it was the end of the semester. As students sometimes do --- if you remember --- to de-stress after all these tests, most of them were also coming off a two or three day celebratory drunk.
As I addressed the audience of about seventy students, I would pause from time to time for emphasis, to get my audience in resonance, as I call it, with what I've come to call, a kind of subconscious rhythm.
View:
Full Article