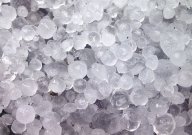 Image credit: Richard Wheeler
Gigantic
hail
stones are one of the most unusual and destructive forms of weather. Causing damage to roofs, cars and posing a risk to anyone caught walking around showers of
hail
stones as large as
baseball
s have been recorded throughout history in various parts of the world.
"

With chunks of ice -- sometimes very large -- falling out of the sky during a warm-weather season,

hail

is one of the most unusual, and destructive, types of weather.

hail

is common in the U. S. , especially in and near "Tornado Alley," but large

hail

occurs frequently in Europe as well.

"
View:
Full Article
|
Source:
AOL News