Abramelin, on 31 August 2011 - 05:54 PM, said:
Thêra thêr in da hâge marka sâton, thêr anna Twisklanda pâlon, wrdon Saxmanna hêton, uthâwede hja immer wêpned wêron vr thaet wilde kwik aend vrwildarda Britne. Thêr to boppa hêdon wi tha nôma Landsâton, Mârsata aend

Holt jefta Wodsâta

.
Those who were settled in the higher marches bounded by Twisklanden (Germany) were called Saxmannen, because they were always armed against the wild beasts and the savage Britons. Besides these we had the names Landzaten (natives of the land), Marzaten (natives of the fens), and

Hout or Woud zaten (natives of the woods)

.
http://oeralinda.angelfire.com/
"Holt jefta Wodsâta", that means that tribe was called Holtsâta or Wodsâta.
Holstein (German pronunciation: [ˈhɔlʃtaɪn]) (Northern Low Saxon: Holsteen, Danish: Holsten, Latin and historical English: Holsatia) is the region between the rivers Elbe and Eider. It is part of Schleswig-Holstein, the northernmost state of Germany.

Holstein's name comes from the Holcetae, a Saxon tribe mentioned by Adam of Bremen as living on the north bank of the Elbe, to the west of Hamburg.

The name means "dwellers in the wood"

(Northern Low Saxon:

Hol(t)saten

; German: Holzsassen).
http://en.wikipedia.org/wiki/Holstein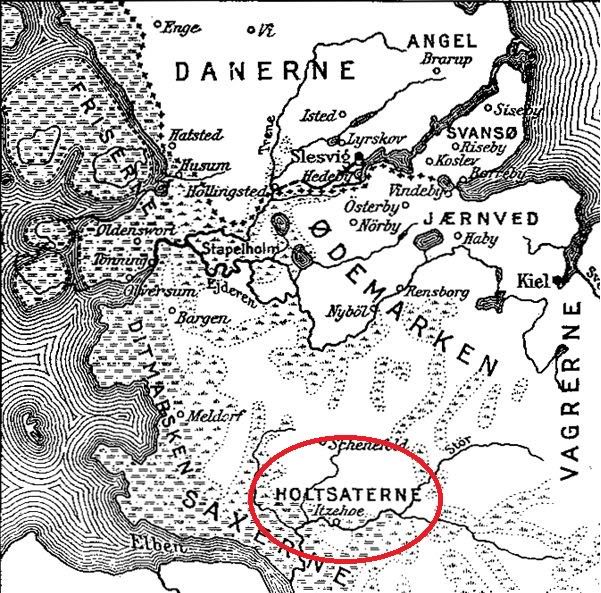 This
"Holtsaterne"
on that map is most interesting, Abe. Congratulations!
For the record, the fragment is from page 49 of the original manuscript and page 70-71 of Ottema and Sandbach.
You and Knul will argue that the supposed creators of the OLB must have known this map (or other sources that we have not identified yet), but Ottema and even Jensma did not seem to have known about it.
Jensma's Dutch translation and footnote (2006):
"Daarenboven hadden wij de namen Landzaten, Marezaten en Hout- of Woldzaten."
Footnote:
"Landzaten, Marezaten en Hout- of Woldzaten - Op te vatten als zij die in of op land, meer en bos zaten, dus land-, meer- en bosbewoners.

Van deze namen verwijst 'Marezaten' naar de 'Marsati', een door Tacitus genoemde inheemse Germaanse stam

."
English translation of the footnote:
"Landzaten, Marezaten and Hout- of Woldzaten - To be interpreted as those who live on land, lakes and in the woods, therefore land-, lake- and wood-dwellers.

Of these names, 'Marezaten' refers to 'Marsati', a native Germanic tribe that was mentioned by Tacitus

."
We keep discovering details from the OLB that are validated by historic sources and maps and other languages.
Hoax theorists believe that the supposed creators knew all these things that even the academic specialist of our times Jensma did not know when he published about the OLB in 2004 and 2006.
Yet we have not identified a single detail that CANNOT be true.
How realistic are the various hoax theories by now?
Edited by Otharus, 01 September 2011 - 07:35 AM.