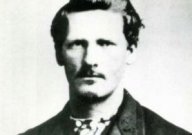 Image credit: Sbharris
Paul Dale Roberts: I got an unusual email from a lady named Yoon Sook Lee. This is her email:
"Hi Paul, my name is Yoon Sook Lee. I live in downtown Sacramento. I enjoy your ghost stories and I have a question for you. I have looked at pictures of Wyatt Earp on the Internet and I truly think I saw the ghost of Wyatt Earp walking around the area of 26 and J. Do you have any idea if Wyatt ever lived or visited Sacramento? The ghost that I saw had a distinct mustache, black cowboy hat and black trenchcoat. I thought he looked very unusual and I couldn't get my eyes off of him. He seemed so out of place. People walking along the sidewalk close to him acted as if they did not see him, but yet I can see him from 200 yards away. What really blew me away is that he walked into a tree and simply vanished!
View:
Full Article