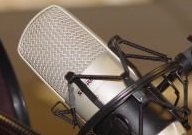 Image credit: sxc.hu
The Mutual UFO Network has launched their own radio show hosted by paranormal skeptic Rick Wood. The Mutual UFO Network (MUFON) has asked paranormal skeptic and radio personality Rick Wood, creator and former host of Audiomartini Radio, to host its new radio program. MUFON has investigated aerial phenomena for more than 40 years. Its mission is the scientific study of UFOs for the benefit of humanity. MUFON Radio will bring the work of MUFON to a wider audience and promote discussion of unexplained phenomena.rn rnWood has hosted a talk radio program (Auiodmartini), based at WEBR in Washington DC, for most of the past ten years. Audiomartini was the longest-running skeptically-based radio show in the world, with affiliates throughout the U.S. and Great Britain.
rnrnMUFON Radio will focus on a broad range of paranormal topics to promote discussion among people who disagree, according to Wood. "I want to make sure that both sides are discussed fairly and openly, so that the listeners can decide for themselves what is true," he said.
"

MUFON's new International Director, Clifford Clift, said he hired Wood to bring a different perspective into the MUFON family in hopes of gaining new members, and because "fresh ideas may bring fresh understanding to an age-old mystery. "

The first MUFON Radio show featured a discussion with a psychiatrist who has studied alleged alien abductions from a social science perspective, with surprising results. Upcoming shows will question whether paranormal events can be explained through prosaic means, or whether there are greater mysteries that science has yet to uncover.

MUFON Radio is a member of Wizzard Media, the largest podcast creator in the U. S.



"
View:
Full Article
|
Source:
MUFON Radio