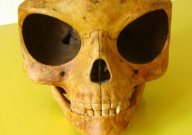 Image credit: Anton Spangenberg
Anton Spangenberg: An alien survivor from a prehistoric saucer crash? An unfortunate time traveler from the future? A tradesman from a parallel universe? A hitherto undiscovered species? Or a mere freak deformity of a human being? Nobody knows for sure, but no matter the explanation, the Sealand Skull has potential to change the view of the world we live in.
The July 2007 discovery of the skull in Olstykke on the Danish island Sealand, did however not make headlines, and remained largely ignored by science until 2010. The researchers who in 2008 examined the skull at the Veterinarian High School in Copenhagen merely concluded that "Although resembling a mammal, certain features make it impossible to fit the animal into Linnaean taxonomy".
View:
Full Article