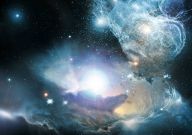 Image credit: NASA/ESA/ESO
Stephen Treehorn: Famously, in 'The Hitchhikers guide to the galaxy, 'Deep Thought' the computer specifically built to reveal the ultimate answer to the ultimate question of life, the Universe, and everything, concluded it was 42. Unfortunately, the ultimate question was unknown. The lengthy process was therefore rendered obsolete and omniscience eluded the fictional characters.
Today on Earth there are many individuals, organisations and governments involved in similar pursuits and with each new day further information describing the vastness and complexity of our Universe is released. Astronomers search the sky for clues as to how we came to be and whether we are alone, whilst quantum scientists construct fantastical machinery which produce stupendous amounts of data as they try to decipher why we are not as inconsequential as light.
View:
Full Article