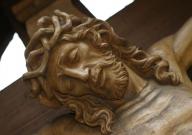 Image credit: Wikipedia
Victoria Grossack: Christmas, we are told, is a celebration of the birth of Jesus Christ, the only begotten son of God. His mother, Mary, became pregnant while still a virgin and bore her son nine months later in Bethlehem. Let's not debate that – yet – but instead review the stories surrounding the offspring of many other gods. They're nearly always sons, although in a few cases they had daughters, too.
We start with a well-documented case: Augustus Caesar (63 BCE to 14 CE). Augustus – Gaius Julius Augustus Caesar – was the first of the Roman emperors. His biological parents were Gaius Octavius and Atia Balba Caesonia, and his original name was Gaius Octavius Thurnius. But his great-uncle, Gaius Julius Caesar, adopted the young man in his will. Now, in Rome of that time, adoptions were taken very seriously. An adoption – even a posthumous one – was generally considered as good as one's natural ancestry.
View:
Full Article