Oniomancer, on 28 January 2013 - 05:08 PM, said:
Oh. it's a lot older than that...



LOL, but it's the idea that 'reptilians' disguised as humans came here and thought of us as juicy steaks and tried to manipulate our minds and politics.
That idea is all over the internet now, but it started in 1983 with that SciFi series.
I remember from the series, when humans finally found out who these aliens really were, that these aliens had originated on planet Earth, and had left 65 million years ago. The idea was based on an article in Scientific American a few years before the series was aired, where someone had published about how troodons (??), a velociraptor kind of dino, could have evolved into a bipedal humanoid dino if they had been given the chance.
++++
EDIT:
Here it is:
Image: Matt Collins, after an illustration by Dale A. Russell in Reconstructions of the Small Cretaceous Theropod Stenonychosaurus Inequalis And A Hypothetical Dinosauroid, by D. A. Russell and R. Séguin, National Museums of Canada, National Museum of Natural Sciences, 1982
http://www.scientifi...-t-look-like-us
In 1982, Dale Russell, then curator of vertebrate fossils at the National Museum of Canada in Ottawa, conjectured a possible evolutionary path for Troodon, if it had not perished in the Cretaceous–Paleogene extinction event 65 million years ago, suggesting that it could have evolved into intelligent beings similar in body plan to humans. Over geologic time, Russell noted that there had been a steady increase in the encephalization quotient or EQ (the relative brain weight when compared to other species with the same body weight) among the dinosaurs.[27] Russell had discovered the first Troodontid skull, and noted that, while its EQ was low compared to humans, it was six times higher than that of other dinosaurs. Russell suggested that if the trend in Troodon evolution had continued to the present, its brain case could by now measure 1,100 cm3; comparable to that of a human
.
http://en.wikipedia....2Dinosauroid.22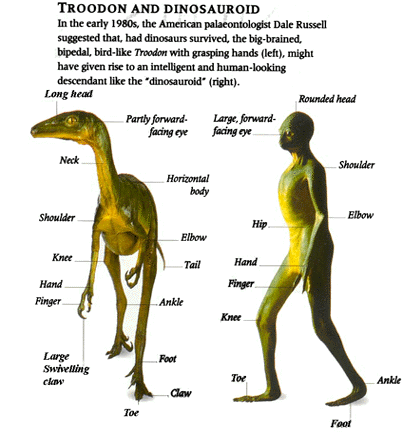 .
Edited by Abramelin, 29 January 2013 - 11:48 AM.