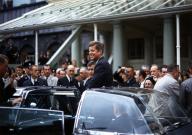 Image credit: Robert Knudsen
Stephen Treehorn: You don't need to be surfing the net too long before you come across a conspiracy theory link which suggests an alternative view to the mainstream media. These alternative views, on the whole, depict a ruling elite of megalomaniacs belonging to exclusive bloodlines hell bend on perpetuating the enslavement of the vast majority of the human race.
One observation always strikes me when I read such 'exposes' is that if the ruling elite have such control, as the conspiracy theorists insist, why do they allow the information to circulate? A very clear example is Wikileaks and its egocentric front man Julian Assange. Through disclosure of previously classified information the team at WikiLeaks has exposed, amongst others, the horrific violence inflicted by the United States army on the people of Iraq. Information includes the official 'violent' death toll of 109,032, although the Lancet puts this figure at 601,027 (31% coalition forces, 41% unknown), and Opinion Research Business Survey has estimated in excess of 1,000,000 deaths. Whichever figure is correct the horrendous scale of violence inflicted on the Iraqi people is staggering and surely something the elite would wish to suppress.
View:
Full Article