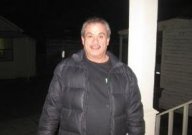 Image credit: Paul Dale Roberts
Paul Dale Roberts: Only ten people could go on this investigation, so headed over to my house were John Shue, Videographer, Jennifer Newell - Psychic, Rhonda Hall - Empath. Three HPI newbies from Fresno and 2 HPI newbies from Modesto were going to meet us at Atwater. Jennifer sent out a Facebook notice of cancelation and the Fresno group saw the message in time, before making the long trip to Atwater. I apologize to the newbies for the last minute cancelation.
As Jennifer, John and Rhonda entered my home, I had to come up with a Plan B. Plan B would take us to the town of Locke which is very haunted and to the famous Ryde Hotel where famous celebrities and politicians have stayed at. Celebrities like Elizabeth Taylor and Clark Gable. Mick Jagger and the Rolling Stones partied at the pool after their concert in Altamont. Mexican bandit Joaquin Murrieta and Three Finger Jack were known to frequent the Ryde Hotel bordello.
View:
Full Article