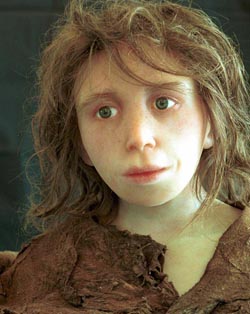 Sorry this is such a big chunk of text but I wanted to convey as much as this idea as possible in the words of the article, much better than me trying to explain it...
Ultimately Gooch developed a framework and theory of human personality in terms of dualities, such as unconscious versus consciousness, religion versus science, magic versus logic, dreaming versus waking. In his list are two key comparisons: psychic phenomena versus materialism, and Neanderthal man versus modern man.9

Gooch's great insight was that while modern humans might manifest occasional psychic phenomena,10 Neanderthals "certainly possessed abilities in respect of the purely paranormal that far exceeded our own."11 According to Gooch, we modern humans are literally the result of the dualities coming together, the biological interbreeding of Neanderthals and Cro-Magnons (that is so-called "modern humans," Homo sapiens) and the melding of Neanderthal religious beliefs and cultural practices with Cro-Magnon societal elements even as Cro-Magnons may have come to physically dominate, and even apparently exterminate, the earlier Neanderthals.

The Neanderthal Question
Who, or what, the Neanderthals were has been a much discussed issue ever since their remains were first recognised in the middle nineteenth century.12 The popular conception of Neanderthals is that of big-browed, short, stocky, stooping, grunting, ape-like cave men (and women) eking out a meagre existence during the harsh conditions of ice age Europe, the Near East, and Southwest Asia.

Classic Neanderthals in Europe date from around 130,000 years ago to perhaps as recently as 24,000 years ago in Gibraltar, but Neanderthal characteristics and antecedents are seen in fossil forms going back to perhaps half a million years ago or earlier.

In many people's minds Neanderthals are a primitive side branch of the human tree at best, a totally separate species from us, that was driven to extinction by the more intelligent and better armed "Cro-Magnon Man" group (archaic Homo sapiens, essentially the direct ancestors of living humans) who progressively migrated from East Africa into Eurasia during the period of about 60,000 to 30,000 years ago.13

Stan Gooch had a very different view of the place and importance of Neanderthals – in Gooch's view modern humanity is a result of the intermixing, both biologically and culturally, of Cro-Magnon and Neanderthal elements. In his words,

A biological supernova occurred when Cro-Magnon and Neanderthal man met. We can, if we will listen, still clearly hear the echoes of that explosion and observe its after-effects… [B]ehind these echoes and tendrils we can also then detect the still fainter traces of Neanderthal civilisation itself, and hear the still fainter echoes of falling cities of dreams.14

According to Gooch, Neanderthals possessed an intricate, psychically-charged, magical culture.15 Neanderthals built a long-lasting "high civilisation of dreams."16 Neanderthal culture, more sophisticated than that of the Cro-Magnons when they first arrived in Europe, served as a primary source for much so-called ancient wisdom.

Gooch argued that Neanderthals were the original creators, the innovators, of high culture, of symbolic values and religious sensibilities, which early modern humans (Cro-Magnons) copied and adopted without genuine understanding. Neanderthal culture was not a civilisation of high technologies, but one of the mind and spirit that survives today in our beliefs, myths, folklore, and religious practices.

Neanderthal Culture
Neanderthals developed in time a culture of the mind of a very high order, but also of a strangeness that is extremely difficult for us to imagine.

Neanderthals, according to Gooch, worshipped the cave bear, the spider, and the serpent – animals with whom they shared their caves. Neanderthals were the first humans to fully develop religious cults, and cave bear worship was their most significant cult. Neanderthals worshipped the number 13, associated with the moon and the lunar calendar, a number that is still considered magical today. Neanderthals developed a profound knowledge of crystals and minerals. According to Gooch, Neanderthals developed their own unique symbols, signs, and sophisticated language systems.17

Neanderthals weaved and sewed embroidery, wore jewellery, painted their faces and bodies, danced, had an elaborate mythology and cosmology, built stone circles, utilised sacred fires, and made ceremonial sacrifices. They had their own grand celebrations and feasts, which were spectacularly colourful and creative performances.

They worshipped the moon and other celestial bodies including constellations still worshipped today worldwide such as The Big Bear, Little Bear, and Draco (the dragon or serpent in the sky). Gooch asserted that Neanderthals had a strong religious life, based on an earth-magic religion, and they believed in the afterlife, practicing complex burial rituals.18

Neanderthals, as Gooch emphasised, were capable of great cultural innovations that included wearing jewellery and decorating their bodies and faces with colourful paints for special ceremonies. There is evidence that the sophisticated Chatelperronian culture of France belonged to the Neanderthals and not, as was formerly believed, to modern humans.19 This culture included symbolic artefacts, such as jewellery. The Uluzzian culture in Italy, also now attributed to Neanderthals, is another example – an innovative culture that included a variety of very sophisticated tools that were similar to modern humans' tools.20 Neanderthals in Spain were painting perforated shells for decoration, using pigments, and engaged in other ritual behaviour.21 As archaeologist João Zilhão, has stated,

The one thing these finds make clear is that Neanderthals were behaviourally modern. They were not like early modern humans anatomically, but they were cognitively as advanced or more so.22

In many ways Neanderthal culture and Cro-Magnon culture were diametrically opposed. Gooch wrote,

I believe the actuality of Neanderthal man – of whom archaeologists find only a handful of skeletons, a few altars, traces of ritualised burial, a range of flint tools, and an apparent knowledge of herbal remedies – was this: his was a moon-goddess-worshipping, matriarchal, food-gathering society, where women governed all matters. The only tasks delegated specifically to men were those where muscle power was directly and literally required, as in fighting, for example. The structure and nature of Cro-Magnon life was diametrically opposite. This was a patriarchal, hunter-warrior society, of which men governed all aspects, including religious life. Women were mere adjuncts in all things, whose main purpose was to bear sons and to comfort and care for the male. The supreme deity worshipped was the sun god.23

Gooch believed that Neanderthals were a mostly nocturnal species, and came out at night. Observing the skies and the moon for thousands of generations, they had become experts in all phenomena of the stars, having a great understanding of cycles and time, equinoxes and solstices, the phases of the moon.

Cro-Magnons would have come to know Neanderthal religion and knowledge initially through secret observation during 10,000 years (or more) of co-existence. When Cro-Magnons arrived in Europe they were shocked by the knowledgeable Neanderthals, and wanted the Neanderthal magic for themselves; so, they slowly and carefully spied on Neanderthals, copied them, and in the process stole all of their knowledge and wisdom, including writing systems and rituals.

The meeting of Classic Neanderthals and Cro-Magnons in Europe some 35,000 years ago was an immense culture shock for both parties… The two species were culturally opposite to each other in every way.24 At the purely psychological/cultural level,… Neanderthal dealt Cro-Magnon a culture-shock of such magnitude that its consequences are still with us today. Though it left little physical trace, there is in fact… not one aspect of our present lives, our attitudes and our institutions which does not today bear that ancient [Neanderthal] culture's stamp.25

According to Gooch, Cro-Magnon was dazzled by the religious rituals, symbolism, cosmology, and deep intimate knowledge of the natural world the Neanderthals possessed.

Cro-Magnon took over all the 'magic' and ritual of Neanderthal for his own. But he took it over without any real understanding of most of it, and also with certain appropriate changes to suit his own world view, his own existing social structure, his own biological imperatives. He took over essentially empty forms, while losing the priceless content.
http://www.newdawnma...nderthal-legacy
Quite frankly, I found it made so much sense it floored me and I had to start a topic here about it.