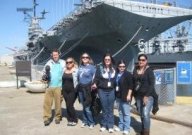 Image credit: Paul Dale Roberts
Paul Dale Roberts: Judy Raderchak and Regina Tellez of EGPI (Elk Grove Paranormal Investigations) and HPI (Haunted and Paranormal Investigations International) set up this fabulous investigation and brought along myself, Shannon 'Ms. Macabre' McCabe, Bryan Coleman, Jennifer Newell/Psychic and Chantal Apodaca/Psychic.
We were taken into the operations area, battle pressing station where they patch sailors up. There were signs 'authorized personnel only' and 'keep out - docent tours only', but our HPI team was determined to investigate all areas of the ship, may it lead us to areas unknown such as the morgue, the area of the Turn and Burn Unit where a man hung himself in this engine room.
View:
Full Article