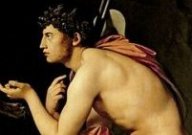 Image credit: Jean Auguste Dominique Ingres
Victoria Grossack: Most people know the story of Oedipus, made famous by Sophocles' play Oedipus Rex, which was first performed in Athens in 429 BCE. In the play, King Oedipus of Thebes is deeply concerned about a plague afflicting his city. He is told that the suffering is caused by the gods, who are angry that the death of Laius, the previous king, was never avenged. The killer needs to be properly punished.
Oedipus sets out to solve the murder (one of the world's first "cold cases"). His sleuthing leads in a circle and he discovers, to his horror, that he is Laius' killer! To make matters worse, Laius was his father, which means that Oedipus has committed patricide, a crime considered much more terrible than an "ordinary" murder. In marrying Laius' widow, Jocasta – which the people of Thebes invited Oedipus to do after he solved the riddle of the Sphinx, freeing them from that monster – Oedipus has inadvertently married his mother. By the time the Sophocles' play opens, Oedipus and Jocasta have been married for many years and have produced four children.
View:
Full Article