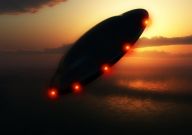 Image credit: stockxpert
Paul Dale Roberts: Paul: John, where are you from and can you tell us about your two UFO experiences?
John: I am from Carmichael. My first UFO experience was in 1987 on a hot Summer night, I was catching crawdads in a bayou near Camp Beauregard in Louisiana. We were using pork to catch these critters. I was with my family and around two in the morning, a bright light was shining down on us. I felt like I was partially paralyzed. The light was shining on us for a good 8 minutes or so.
View:
Full Article