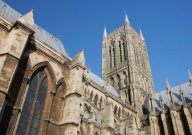 Image credit: CC 2.0 Allan chapman
Dan Green: In July 1995, Dean Brandon Jackson of the famous Gothic Cathedral of Lincoln made a most puzzling and unexplained public announcement. Amidst clerical rumours that currents of conflict, hate and evil had been swirling around the Cathedral for centuries, he declared that he believed a battle of good and evil centred on the ancient Minster and then went on to ask that he close the Cathedral for six months for it to be exorcised by prayers.
Top London newspaper 'The Sunday Times' added fuel to the fire, carrying a report of a 'swirling evil' theory that had been repeated by Deans and Provosts at their annual April conference that year, and also told of a Dean of another Cathedral who said that Lincoln Cathedral was one of the most evil places he had been in, yet another adding that he believed it sat on a junction of ley lines.
View:
Full Article