booNyzarC, on 17 January 2012 - 11:49 PM, said:
I've read through your previous discussions with swanny about this and so far I don't agree with your assessment.

I don't think you've established that anyone knew it was going to happen. It just appears to me as though a lot of people considered it extremely likely. There is a big difference between these two things and considering how important and central it is to your position, you would need to establish this purported foreknowledge as definitive for it to actually have the ramifications you are implying.

So far I haven't seen you establish this as fact. It is merely supposition.

It happens that "extremely likely" is quite enough for the argument I'm making - no one on scene should have been extremely confident of collapse.
Still, to reinforce: -
"Because they were just adamant about 7 coming down immediately. I think we probably got out of that rubble and 18 minutes later is when 7 came down."
Matthew Long – Firefighter


"I remember him screaming about 7, No. 7, that they wanted everybody away from 7 because 7 was definitely going to collapse, they don't know when, but it's definitely going to come down, just get the hell out of the way, everybody get away from it, make sure you're away from it, that's an order, you know, stuff like that."
Edward Kennedy – Firefighter


"We were then positioned on Vesey Street between North End and the West Side Highway because there was an imminent collapse on 7 World Trade, and it did collapse."
Brian Fitzpatrick – Firefighter


"We hear over the fire portable, 'Everybody evacuate the site. It's going to collapse.' Mark Steffens starts yelling, 'Get out of here! Get out of here! Get out of here! We've got to go! We've got to go! It's going to collapse.'"
Louis Cook - Paramedic


"They were saying building seven was going to collapse, so we regrouped and went back to our rig. We went to building four or three; I don't know. We were going to set up our tower ladder there. They said no good because building seven is coming down."
James Wallace – Firefighter
I'd say
"adamant"
,
"definitely"
,
"imminent"
,
"going to"
,
"was"
,
"is"
are enough to make the case.
Of course, most of the firefighters had not viewed the building for themselves and those who had were skeptical of the warning – what the quotes actually show is the certainty with which they were
informed
that WTC7 was to collapse. Apparently the same certainty which led media to report it had already happened.
That is a small selection of the foreknowledge.
Once we start looking at timing of the fall back, perimeter setting and power shutdown, the way the warnings became more urgent shortly before collapse, the desire of the building owner to bring it down, the belief on scene that demolition of the building was a possibility, then it becomes an open and shut case.
All this, and then, for the first time in history, fire happens to immitate the characteristics of demolition.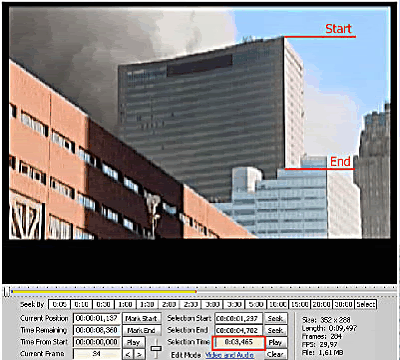 Sure.