Note the title is 2 questions.
I have been thinking about this for a long time now, it seems to me it wouldn't be too hard to imagine that ancient sailors from the Atlantic seaboard, (where Portugal now is, up to Basque country) who have a darker Mediterranean look, like the Spanish, usually dark brown/black eyes, curly dark hair etc, arrived in the Mediterranean and landed in Libya, Malta, Sicily, Crete and even on to Troy. Bringing in the male Earth bull, and that darker look they have than Northern Europeans.
I pointed out once a painting that showed a consistency in the dress of ancient Crete...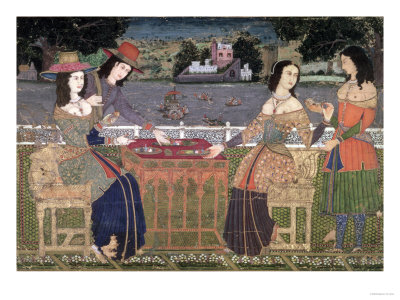 Portugese Ladies in Goa
The ladies have their breasts out, not only that, the black snake curl hair can also be seen. So, I reckon they look like Cretans for a start, and they bought in the Bull. I'm aware the bull can be found at early sites in Near East but I also think that a bull cult also developed in the East, that of a mother cow cult, not the male Earth bull. I also think the Lion motif may have come in with these European people. The Bull and Lion are seen all through the Paleolithic in Europe.
Then I was checking out the Basque language, because I like to look at languages and play 'lego linguistics', but I couldn't help but notice one word...
hiri `Town, city'. The word is ancient, and its earlier form *ili is attested in a number of ancient place names, the most famous being the mysterious Iliberris in Granada (modern Elvira); this is transparently *ili plus berri `new', but no one knows how a Basque place name could be found so far south.
http://www.buber.net...sque.words.html
Another guy who got panned badly did try to decipher Linear A into Basque, seems it was 'lego linguistics' too, but who knows really, could be something in it.
Anyway, the word above is hiri but an earlier form is ILI which means town or city... of course I then immediately thought of Ilium of the Iliad, always known as the CITY of Troy.
Nothing says this name cannot be Wilusa, which would just be a changed form of the true ILI sound for city/town. I could then move onto Iberia in the Caucasus, where Colchis and the River Phasis was.
ibai `River'. This is the most widespread word, though there exists also uhalde, ugalde, especially in the east; this is a compound of ur `water' and alde `side'. The word ibai itself appears to be a derivative of ibar `valley', but perhaps originally `water-meadow'. Curiously, perhaps, the great majority of river names in the Basque Country are of non-Basque origin, though an outstanding exception is the biggest river in the Basque heartland, the Ibaizabal, from ibai plus zabal `wide'.
http://www.buber.net...sque.words.html
I'll leave it at that for now, finding the word ILI as city/town was interesting though.
Edited by The Puzzler, 09 February 2012 - 04:31 AM.