Part one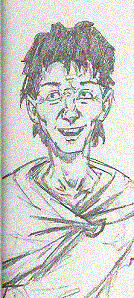 (sketch by snuffypuffer)
She was as happy a cow as ever a cow could be. Her tail swung to and fro, batting away bothersome insects as she tended to a juicy patch of grass. It tasted wholesome and sweet. Not like the grass by the darkside of the barn. No. That grass was dry and full of mushrooms. This cow did not particularly care for the effects the mushrooms seem to have on her. Cows were not meant to experience the dancing joojoobees. And this was how she prefered it.
A cool breeze carressed her spotted black hide, causing her to moo softy. The long grasses danced and the wind carried a flight of autum leaves to swirl across the green pasture. But this was a peacful moment that would soon pass. The cow's happy mooing was suddenly drowned out by a deafening modulation of cataclysmic proportions.
"AAAAAAaaaaarrghh....... !! "
It was thunderous, that note. The racket frightened the poor cow on such a scale that she began to choke on her meal. Anyone who has ever seen a coughing cow, will tell you that it is a most deeply intrusive scene. The afterimage would forever haunt the unforunate witness.
"AAAAAAaaaaarrghh......... !! "
The pigs were also deeply wounded by this sonorous reverberation. Up untill this event, they were rolling and routing in the mud as pigs will do. Afterwards they began running around their housing. They began squealing. Bumping into eachother, causing such a racket that old Farmer Momo left his wooden rocker to investigate. He quickly dressed in some tattered breeches then sped off to investigate this disturbance
On his way to the pig pen, he stopped in the barn to grab a pitchfork. And a grand pitchfork it was. It was all that remained of his father who passed away only a few weeks ago. A stampede of raging pigs had been the old mans fate. Infact farmer Momo was still in mourning. If not for his resentment towards all things piggly, he may had never risen from his drunken stupor to investigate.
But this night would be different. This night farmer Momo vowed such vengence upon the evil swine. He gripped his trusty pitchfork then strode out to meet his destiny.
"AAAAAAaaaaarrghh......... !! "
Upon hearing this earth shattering intonation, Momo stoped dead in his tracks. The farmer has never heard anything so offensive or harrowing. What could it be? What supernatural force could produce such a clamour ? No dragons had been seen in these parts for centuries. Certainly not an Ulryn. The bear folk had signed a treaty long ago that protected these lands from invasion.
"AAAAAAaaaaarrghh......... !! "
The last one startled Momo considerabley. He jumped into the air, white as a beakless goose. .Mumbling about dancing joojoobees, he fled back into the barn. Momo had lost all resolve and nerve as he dove into a hay stack. This proved to be an excellent sound barrier. Momo made a mental note of it before he passed out.
"AAAAAAaaaaarrghh......... !! "
The horses dunked thier heads in thier water troughs and a few sheep dropped dead in the pastures.The last one also caused a flock of pidgeons to make an early southward migration. Consequently, these were the only creatures to ever solve the mystery of the Great Argh. Which is what it was called in the animal kingdom.
"AAAAAAaaaaarrghh......... !! "
As the pidgeons continued thier migration, the land bagan to change beneath them. Soon agriculture gave way to rolling green plains dotted with oaken volleys. They followed a placid river south. Below them, occasional fish broke the calm the surface with thier rainbow hued scales, causing ripples to flutter with the cool breeze.
It was there on the river banks that they spotted the source of The Great Argh. To thier suprise ,it was no dragon. Nor was it an angry Ocelot who had stomped its own tail. Nor was it a dancing drunken Joojoobee , screaming nonsense at a winking wombat.
It was a Moe Eubleck. And he had just spilled the contents of his backpack in a great heap behind him.
"AAAAAAaaaaarrghh......... !! "
This Moe Eubleck was known for his clumsiness. He was tall and awkward, and his chain mail tunic made it difficult for him to see where he was walking. But this day clumsiness was not the source of Moe's frustration. It was a hole in his back pack due to plain bad luck. Moe addressed this issue with one last argh.
"AAAAAAaaaaarrghh......... !! "
" Why does this always happen to me," Moe sunk to his knees in defeat.." Its not fair. just not fair." Running a hand through his matted dark tresses, he removed his pack and began to inspect the hole. Seemed that it had started weeks ago as a small tear. Days of trekking through endless grassland had worn it to its last thread. Moe poked his face through the aperture and found welcomed darkness in the backpacks interior.
At this point , all that could be seen of Moe's head was was the outline of his bulbous nose. But he didnt care. Moe was travel worn and angry. He very much wanted to fall asleep with the backpack on his head. This would have been the case if not for the laughter that suddenly errupted from beside him. Moe knew that laugh. It was mocking and cynical and made him want to stay hidden forever.
" Go away Zanth." said Moe with a muffled voice." I am retiring.This is my new home now. Let me rest in peace."
A clawed hand pulled the backpack off of Moe's head and he saw a small reptillian face staring at him dubiously. Even while kneeling, Zanth barely stood past Moe's torso. For he was a pocket dragon and they were no larger than hound dogs. Black leathery wings sprang from his back and his blue scales glimmered in the afternoon sun.
Zanth cocked hes head to one side a made a half smile.." I think I know what the problem is Moe," he mocked." Its the debris behind you that belongs in your pack. Not your head."
Moe continued to pout. " Its not fair. I just want to sleep now. Sleep is good."
The pocket dragon sighed and gazed about. They had stoped on a grassy knoll at the edge of a river. It seemed like as good a place as any to set up camp. " Allright Moe, " Zanth shrugged ." You go ahead and set up. I shall catch some supper. I just saw a flight of some rather juicy looking pidgeons." With a mighty leap and span of wings Zanth was soon speeding towards the distant flock.
... to be continued
Edited by moe eubleck, 06 April 2005 - 04:42 PM.