AnVil, on 17 April 2012 - 04:27 AM, said:
I don't think people do appreciate the lengths they go to and using fear tactics/psychology to try and submit people into accepting the lengths they take is completely wrong.

I can't speak for the way the US does things, but in the UK and Ireland who lived with REAL terrorism threats (IRA) for decades before 9/11 even happened, and had implemented security measures into all our airports etc, was no where near as ridiculous or harsh, and worked very well without all this intrusion. The record of that alone should have shown it was the common sense approach that worked without having to go to lengths which piss people off and make people feel violated or scared for their health. It is over the top now and there is nothing to prove that it keeps us any more safer when flying.

I don't think you understand how evil the enemy is that we are dealing with: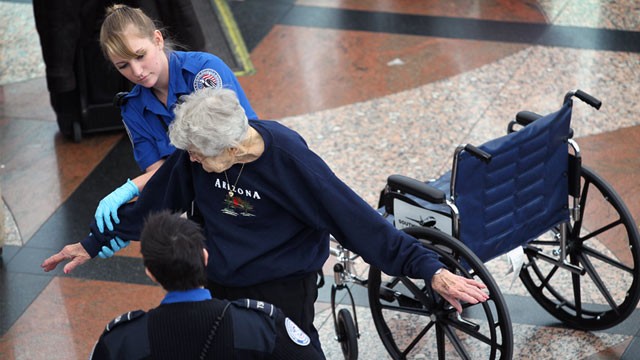 Everyone knows that wheelchair-bound octogenarians may look like they are loving and want to bake you an apple pie, but they very well could be smuggling c4 in their bras, so they need to be groped in order to keep them in line.
We know for sure that handicapped 5 year olds are obviously evil, and a good choice for packing explosives. Little Timmy might just look like a kid that has had a tough run of things so far, but that is exactly what Timmy wants you to think, so he can have the upper hand and kill the flight crew before anyone catches on...meanwhile he is diverting the plane and heading towards cuba.
Obviously there needs to be security for airplanes, the risk is too high to leave them unsecured. However I personally think that groping, xraying, and mistreating the poor disabled grandmothers of the country are not the way to do it.
Many other countries have been dealing with terrorism of one form or another for longer than we have, and have been able to create safety systems that do not hinge on EVERYONE being a criminal until proven otherwise. I have flown all over the world and never had to deal with the ridiculous actions done by under-trained and overzealous staff. We should be learning from other countries and not trying to reinvent the billion dollar wheel.
Of course there will be people who would support any action as long as their government told them it was for their safety. I bet my tiny paycheck that if they wanted to introduce cavity checks because some idiot snuck a weapon on board in his keyster, there would be some people who could completely rationalize it and support the idea. Stupid ideas will always have stupid supporters to rationalize the idea; regardless of the damage being done. Think about all the people that loved the idea of suspending habeas corpus to take care of all of the evil terrorists; with no concern for what kind of future legal ramifications that were potentially being created. There are just too many examples of bad ideas being backed by people simply because they feel it will help their safety.