Arbitran, on 18 July 2012 - 12:25 AM, said: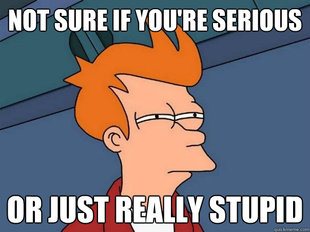 Since when do you make the ******* rules of life? No brains, of any kind, can exist outside of Earth? I can't tell whether you're serious or severely undereducated.
I can tell you haven't bothered to study biochemistry or
science
before writing this.
ill bet a million dollars that its no brains are out there... we made the rules up... thats how i know its no brains out there..we the ones who define what a brain is... so in definition anything else out there wouldnt be define as a brain because we not able to define somthing we dont kno about ....if u think its another brain out there u are not thinking reasonable. u are living and thinkin in a box of course they want us to believe and hope it life out there to keep our hunger for space exploration going aka keep funding it.....but if u let ur brain free u would realize brain were made and defined on this planet so there cant be anything made or define as a brain anyway else....
you got to think outside of the box. and think realism ..... even on documentary and theories it seems like they are guessing based on earth situtations.. they are good at making stuff sound good and even a nasa scientist will tell ya that they dnt think a brain is out there maybe a nucleus but not a complex brain