Ok..i want to share my personal view about pyramids and especially about underground caves..First of all,,i dont think that egyptians could build such a massive structure like pyramids...even if they did they had to have outside knowledge and help and in this case ..extraterrestials... EVen today in 21st century it will take us many many years to duplicate pyramids in egypt using high cranes and high tech tools. If many people believe that primitive egyptians could do it by themselves so why there are no signs of any tools or remains of the builders around the pyramid? Its also possible that egyptians could somehow levitate these heave blocks of stone just like Edward Leedskalnin who build coral castle in florida and who claims he knows the secrets of the pyramids. I believe that egyptians had close relationship with gods and extraterrestials beings and only with their help,they could build pyramids.
egyptian and extraterrestial being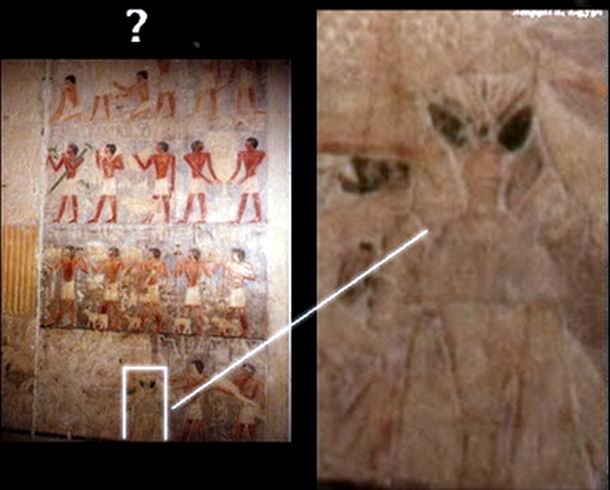 advanced knowledge
There are many other connections between egyptians, extraterrestials and the planets.
Let me say few words about underground caves in egypt and near pyramids.Let me start with great sphinx. If there is no hall of records under the sphinx so why created a tunnel under the sphinx ..see here :
https://www.youtube....h?v=rPA-ogvp1ms
there is another tunnel that goes down on the top of the sphinx.
And why there is a visible chamber under the sphinx of some kind shown on dream stella?
If there would be nothing under the sphinx,,then egyptians wouldnt show this strange chamber on dream stella.
There is also unfinished tunnel under the great pyramid... and cave that leads to nowhere at the tomb of the birds where is official entrance.. two videos here :
https://www.youtube....h?v=LTEVvkL-l3Q
and
<iframe src="http://player.vimeo.com/video/19034286" width="400" height="250" frameborder="0"></iframe>
My opinion is this: caves,sphinx and unfinished tunnel under the pyramids has not been fully explored.They are there for a reason and needs to be explored.Egyptians or whoever build these pyramids had to leave some big treasure and knowledge behind...and these knowledge is somewhere around the pyramids..if not on top then it has to be underground...there must be something big.I dont know if people are not ready for this moment to discover whatever is underground buti believe then sooner or later we will find out the truth.
Edited by dreamland, 16 December 2012 - 07:40 PM.