UFO Craft Landing Feet & Apollo Lunar Lander
CE3: Witnesses to a close encounter with occupants describe discoid and oval-shaped craft with landing feet.
UFO Trace reseracher Ted Phillips has noticed this detail in UFO landing cases:
Egg-Shaped Objects, 16 to 20 feet in length with visible landing legs, generally four, on occasion six.
Typical Flying Saucer, 30 feet to 40 feet in diameter, three landing legs, touch the ground & leave burnt or
depressed areas with an irregular configuration.
Example: April 24, 1964. Socorro, New Mexico. Lonnie Zamora.
http://www.nicap.org/regenc/RegEnc.pdf
NASA: Notice the landing feet on the lunar module.
Occupants Gathering Earth, Soil Samples & Apollo mission gathered lunar rock and dust samples
CE3: Witnesses to a close encounter also descibe UFO occupants taking soil and earth specimen samples.
February 14, 1975. Petite-He, Reunion, France 1:30 P.M.
Four 1- to 1.2-meter-tall beings, metallic white garb, helmets, from domed disc with portholes, directed light beam at witness, who felt a force pulling him, later had headaches and impaired vision; beings poked in ground as if gathering samples.
November 14, 1954. Ortonovo, La Spezia, Italy
NASA: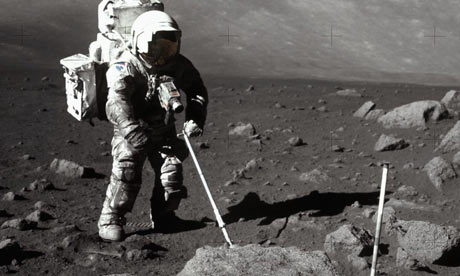 One of the Apollo 17 astronauts uses a thin metal pole to get a core sample on the surface of the Moon. Photograph: Corbis
Occupant one-piece coveralls/ divers suit, helmet/ visor & NASA Space suit, helmet/visor
CE3: Occupants in a close encounter are descibed as wearing one-piece coveralls/ divers suit and in some cases a helmet/ visor.
September 10, 1954. Quarouble, France. Maruis Dewilde.
August 11, 2003. Szczecinek, Northern Poland
October 12, 1978. Pampa de Agnia, Argentina
September 17, 1978. Torrita di Siena, Siena, Italy
NASA: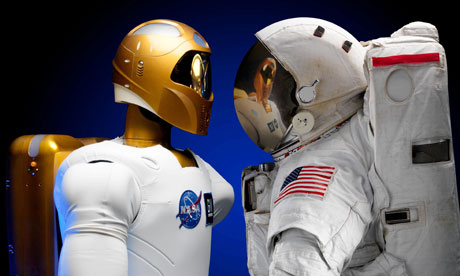 Robonaut facing off with an astronaut suit in the Johnson Space Center in Houston, Texas. Photograph: Robert Markowitz/Nasa//EPA
More later....
Edited by topsecretresearch, 20 December 2012 - 03:41 AM.