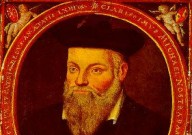 Image credit: Wikipedia
Rachel Alebev: Unless you are living under a rock you have heard about Nostradamas, the man who, 500 years ago, made an estimated 6,338 predictions/prophecies. Followers claim he predicted everything from Hitler to 9/11, the death of Princess Diana, along with the assassination of just about every important person in history.
The problem with believing this Nostradrama nonsense is that all the "prophecies" require you interpret his metaphors and cryptic verses, add some numerology, and come up with a major event that fits the quatrain. Almost any circumstance can be made to fit Nostradamus' ambiguous style.
View:
Full Article