Obama signs 23 Executive Orders on Gun Control
Jan. 16, 2013
http://us.cnn.com/20....html?hpt=hp_c1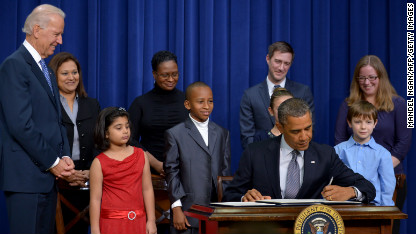 Washington (CNN)
-- President Barack Obama on Wednesday proposed background checks on all gun sales and bans on military style assault weapons and high-capacity magazines as part of a package of steps to reduce gun violence in the wake of the
Newtown school massacre
last month.
continued...
*****
Just curious...
Weren't the 'birthers' roundly criticized for wanting to do 'background checks' on Barack Obama?
Seems hypocritical of him to want back ground info on YOU but for him to become POTUS he didn't have to provide you with his own information(except an autobiography novel, of course) And now he just sign an executive order with the use of force to provide back ground checks on YOU!
I know, I know... the same ole people will say, "If you have nothing to hide or fear you'll pass the tests... er, I mean back ground checks......
Weird how this President continues to get a free pass at every turn.
Good job Barry.