hello this is my first post here, just really want to see what people think about this; this all happened in my ex's place a few years ago.
when we first met, him and his family have had alot of trouble with ghosts in their house. i know for a fact that it was really haunted too, especially because of the location. heres some history on this place- he lived in charlestown MA, right near the Bunker Hill memorial, where that battle of Bunker Hill took place, so naturally alot of people died there. his house is literally right near the monument. also, his bedroom which is in the basement wasnt originally part of the house, his father and a few other people had to actually dig the space for the room out, and knock down walls to build it...and his father told me that when they did, they actually found a skull in the dirt, along with empty booze bottles..creepy enough. well anyway, theyve always had spirits drifting around their place, you could tell when they were around too, you could just feel like someone else was in the room with you. also his mother was a practicing witch, a wiccan, and did alot of rituals and dealt with these ghosts before. ok enough of all that...lol..when i was staying over for the weekend once, it was during a time when him and his dad were remodeling part of the basement, taking a meter room down. and there was one certain wall in that room that was very odd...whenever anyone would touch that certain part of the wall with their eyes closed, it would feel like they were in a void; when i tried doing this, it felt really cold, and almost felt as if you were in a tunnel...quite a strange sensation. well after they demolished that part of the wall, weird things started happening, youd hear far off voices, things like that; a mirror in the other room actually fell of the wall by itself and broke perfectly down the middle(this room is where he had a recording studio, it was a finished basement). so the first night i was there, we were sitting around just watching tv, this was about 3 in the morning. out of the corner of my eye a few minutes later i saw a little black dot, or a black orb streak across the room, and my ex saw the same thing. a little while after we turned the tv off, and as we were laying in bed just doing nothing; but then i saw that little black streak again, a few seconds later the tv kind of flashed a really weird, but very dim green glow. i know ghosts can screw around with electronics, so this is probably what happened, and we both saw this happen too. at this point the room was getting cold breezes in it, and it was very warm down there.after this he went upstairs and got his mother and told her what was going on; and she did a sort of ritual or whatever youd like to call it to cast whatever was there out. this was really creepy because after she did this, i could hear moaning, or wailing..but it didnt sound normal...like it was in the same room as us, but also sounded very far off at the same time. after this was all over we all went back to bed but i didnt sleep at all that night. in the morning, a few hours later we got up and i went out into the main room of the basement where the recording studio is; and on the window to the sound room was something really strange, there was a print of some sort of face on the window that wasnt there before, and to the sides of the face it looked like what could be hand marks, as if someone had slid down the glass. my ex and his mom both saw this thing too, and they know it wasnt there last night either. it wasnt there till after she tried getting rid of the spirits that night, and what im thinking is that as they were cast out, they got smacked against this window down in that room...yeah weird but thats what it seemed like. and i know no one else came downstairs that night, the door going upstairs is really loud and squeaky..lol..and that windows too high up to stick your face on anyway...besides no one in the house wouldve been dumb enough to do that
luckily i took some pictures of this thing....and you can clearly make out a face and hands, one of my ex's friends who saw it later said the hands streaking kinda looked like wings..but i dunno. do you guys think its common for ghosts to be able to leave marks on things like this? its just really crazy and would like to know what you think about this, so heres the pics.
theres two, and one of them is a closeup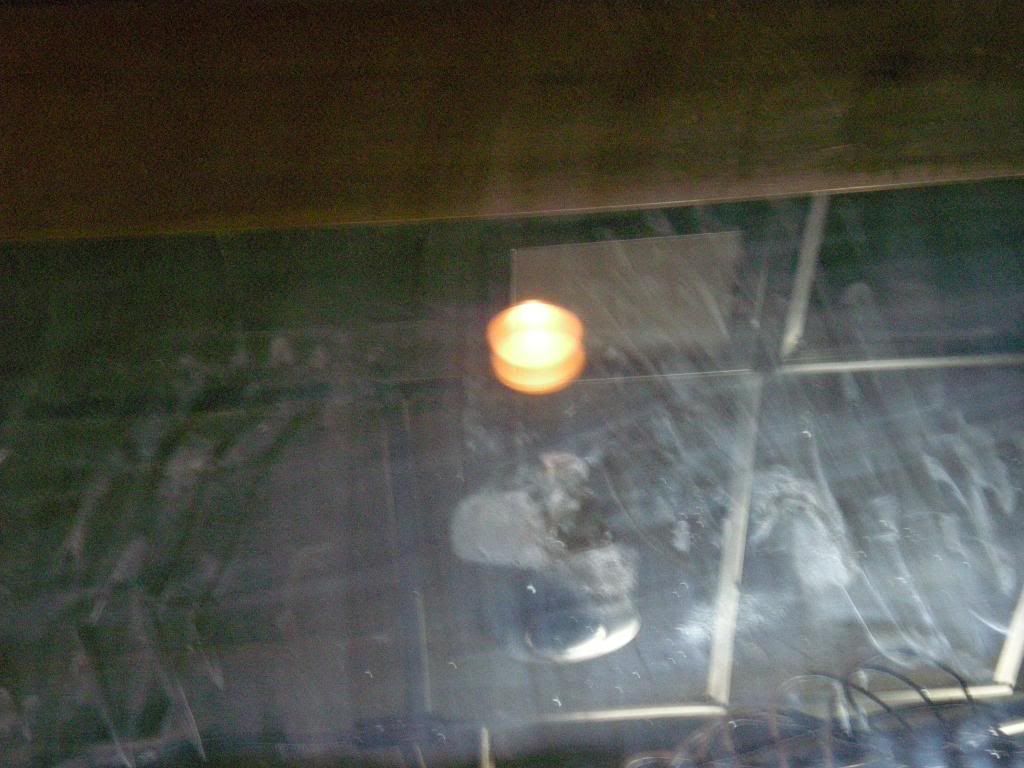 im sorry about the pics sizes...i had enough trouble getting them on stupid photobucket lol....i actually didnt even notice before, but it kinda looks like claw marks streaking from the fingers...these pics are the wierdest things ive ever took
Edited by Nevan, 25 January 2013 - 09:23 PM.