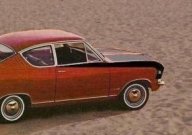 Image credit: Rudy Martin
Rudy Martin: This true story occurred sometime in 1970. In retrospect, it is as accurate as it can be. There are not enough words for me to prove the truth of this story. I can only wish you had been there with me, but read on and discover the most unbelievable way of travelling from point A to point B!
I drove out to work one day. It was one of those usual clear, sunny mornings and everything was normal except traffic. Within minutes, I ran into a hardly moving, bumper-to-bumper jam after crossing the bridge. Losing patience and in attempt to outsmart this queue, I turned left, thinking I could loop back ahead somewhere. A few turns and I knew I was beginning to get lost. The river to my left was the only landmark I had and I was sure it was the North side, so I knew I was headed East. A few more turns and not a thing was familiar anymore. I was completely lost. I drove past a horse race track, a well-known international bath and laundry products manufacturing plant and a fenced power transformer station. These were the last landmarks that registered in my memory.
View:
Full Article