mysticwerewolf, on 19 February 2013 - 06:04 AM, said:
before my friend to the left passed away he was able to say one english word That word was hello. it wasn't a perfect hello most of the time but he had the two syllables correct and usually sounded like scooby doo, a couple times however it was so perfect that we actually looked around to make sure that no one else was in the room. but on the rare occation he demanded to be understood, he was understood. Sometimes i wondered if he was psionic ( psychic ) as most of the time he would just look at someone and they knew what he wanted. He rarely spoke except when someone came home or came to visit. I still miss him.

That's a lovely post. My dog is by far my best friend and about 5 years ago he went out into the back garden in the morning to pee and when he returned, he had a slight limp on his rear left leg, I didn't think much about it until about an hour when I asked if he wanted to go out for a walk and he couldn't move his leg at all. He lost all movement in his leg and couldn't wag his tail.
It was 2 weeks before Christmas and we thought we were going to have to put him down, after a few trips to the vets, he quickly established that Buster had somehow severed some tendons, nerves etc and medication (steroid based) would help, re heal/re-join the damage and he would regain the use of his leg again.
We could only hazard a guess on how he damaged his leg, I think the most logic explanation was he slipped on the icy steps either going down or coming up from our raised patio to the putting green.
Buster sleeps on the floor in his bed next to me in our bedroom and so we decided I would sleep on the couch until he was back to full health, the last thing we wanted was for him to damage his leg even more or even worse damage the good one, while trying to get up the stairs to go to bed, following me. Three months I slept on the couch, through Xmas and New year until he was back to his old self. He always actually had a slight limp on that leg and now all these years on, his back legs are completely not working. A combination of his age and the nerve damage, he can't use them.
I bought him a doggy wheelchair last November but he doesn't use that so much now, he is in no pain and moves around the house pulling his back legs behind him, he still plays and has a good appetite and until I see him in pain or depressed, he will remain part of the family.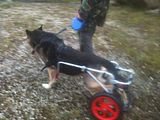 I work from home, so we spend every minute together, he doesn't really need to talk to me, I know what he wants when he is looking at me. He goes crazy when I am on my way home in the car, my family know I am 2/3 minutes away when he gets all excited. We stopped going abroad as a family so Buster could holiday with us and we never had to place him in kennels. We even purchased another larger car to cater for him.
Mysticwerwolf, I feel for your loss and dread the time I am in the same situation, I know that time is soon and even thinking about it makes me tearful.